ARTISTS
Abdoulaye Konaté
Born 1953 in Diré, Mali.
Based in Bamako, Mali.
Abdoulaye Konaté studied painting in his home country of Mali and in Cuba, and has been exhibiting vivid textile works internationally since the 1990s. His works inspired by the dress of indigenous musicians of the Senufo people of northern Ivory Coast and southeastern Mali are rooted in the traditions of West African textiles, but also show an artistic approach analogous to a painter selecting colors from a palette. Various colors have symbolic meanings such as life, origins, peace, the sun, and nature, with blue representing Mali, famous for its indigo dyeing, while also symbolizing water. In A Kite for the Children of My Country (2019), the kite against a blue sky represents hopes for the younger generation.
Konaté's exploration of relationships between picture plane and support, and the composition of colors on large-scale surfaces, expanded into three dimensions, and his early work Lutte contre le HIV (Fight against HIV) (1995) developed into an installation. This work sounded a warning about the spread of HIV, which was rapidly becoming a societal crisis across Africa at the time. This is one of many issues, relating to society and violence, to which Konaté has responded through his practice in his home country and abroad, including war, terrorism, genocide, abuse of power, immigration, and infectious disease. The green scarf worn by the figure symbolizes hope; on the interior of the lid of the black box at the figure's feet are three prints of the Mona Lisa, expressing Konaté's hope that people affected by illness can experience the awe that art inspires; inside the box is a blanket with a red ribbon logo. From when it was first exhibited until 2000, the interior of the lid was printed with Picasso's Guernica, and it was an interactive piece containing blankets and unused condoms for people to take home. In recent years his work has shifted toward abstract compositions that represent "the harmony of all things" including all forms of life, the earth, the sky, and humanity. As his work has evolved with the changing times, Konaté's practice of envisioning an ideal world in which people with illness can be loved without suffering discrimination resonates strongly with us today.
Konaté has exhibited work in major international exhibitions such as the 57th Venice Biennale (Italy) in 2017 and documenta 12 (Germany) in 2007, as well as at the Metropolitan Museum of Art in New York, the Centre Pompidou in Paris, and the Mori Art Museum in Tokyo. He is also an active educator, having founded an institution of higher art education in Bamako, Mali in 2004.
Selected Works & Awards

2017

57th Venice Biennale, Italy

2016

Solo exhibition, Arken Museum for Moderne Kunst, Copenhagen, Denmark

2014-2015

The Divine Comedy: Heaven, Hell, Purgatory revisited by Contemporary African Artists, National Museum of African Art, Smithsonian Institute, Washington D.C., USA/Museum für Moderne Kunst, Frankfurt, Denmark/SCAD, Savanna, Georgia, USA

2007

Documenta 12, Kassel, Germany

2007

Africa Remix, Museum Kunstpalast, Dusseldorf, Denmark/Hayward Gallery, London, UK/Centre Georges Pompidou, Paris, France/Mori Art Museum, Tokyo, Japan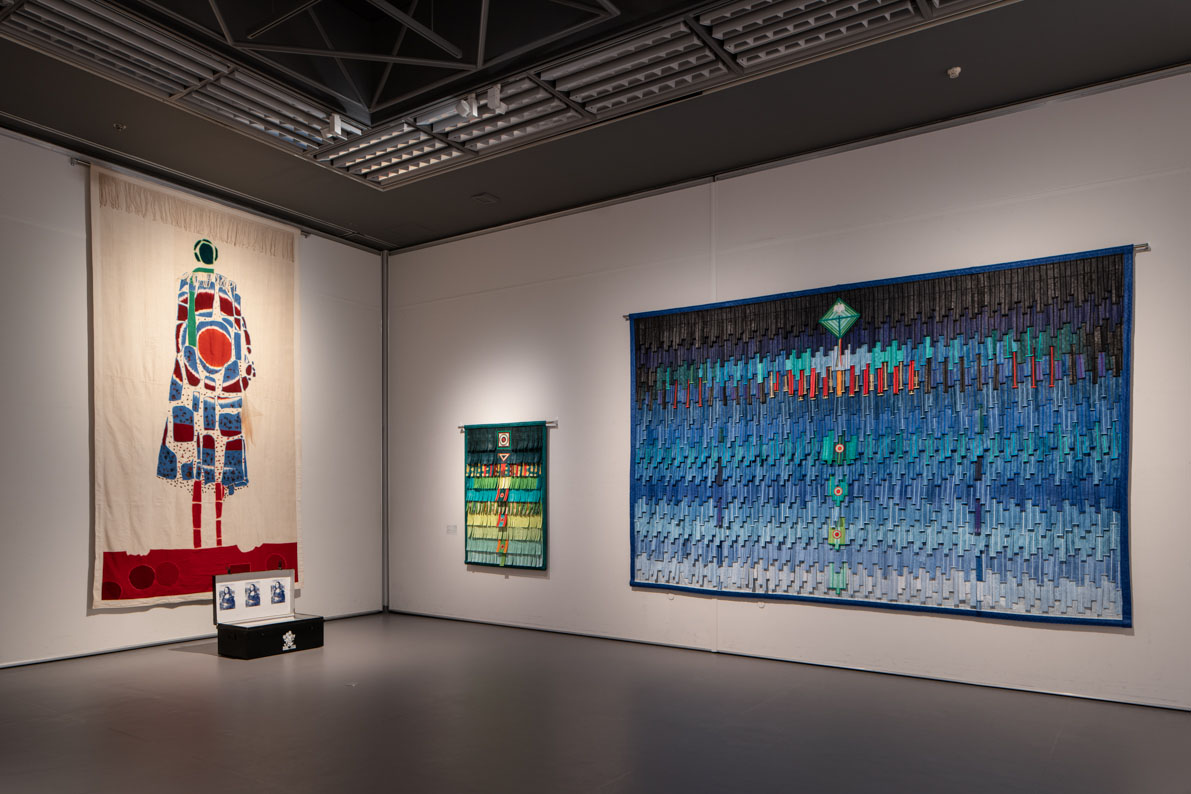 Installation view at Aichi Triennale 2022
Photo: ToLoLo studio
Open

10:00-18:00 (20:00 on Fridays)

*Last admission 30 min before closing time

Closed

Mondays (except for public holidays)
Venue / Access

Aichi Prefectural Museum of Art Gallery (8F)

3 minutes on foot from Sakae Station on the Higashiyama Subway Line or Meijo Subway Line.
3 minutes on foot from Sakae-Machi Station on the Meitetsu Seto Line.