ARTISTS
ARAKAWA and Madeline Gins
ARAKAWA
Born in 1936 in Aichi, Japan; lived and worked in New York, USA; died in 2010 in New York, USA.
Madeline Gins
Born in 1941 in New York, USA; lived and worked in New York, USA; died in 2014 in New York, USA.
Over the course of his research with Madeline Gins on the mechanisms by which we look at things and perceive their meaning, ARAKAWA began to paint "diagrams" composed of symbols, letters, numbers, and propositions in the mid-1960s. PINK (1971–1972) depicts the impossible propositions "FORGET ANY GRAY" and "FORGET ANY NON-GRAY," inscribed in the upper left and lower right of the painting, as well as his analysis of the mental operations that arise in response to them. The title "PINK," moreover, which refers to a "NON-GRAY" color, confuses the functions and operations of memory and forgetting with respect to the color gray. Blank Stations (1981–1982), on the other hand, depicts the dynamism of what ARAKAWA calls "blanks": the spaces that expand indivisibly between the human psyche and its surroundings that have been the subject of his interest since the late 1970s.
The Process in Question/Bridge of Reversible Destiny (1973–1989) was a project to build a bridge designed by ARAKAWA and Gins over the Moselle River in the French city of Epinard. This work is a 1/10 scale model of a 140 meter long bridge. The bridge comprises a series of 21 sections, each of which is in fact a device that triggers a specific bodily response. The "reversible destiny" in the title refers to the act of reversing the given conditions that we perceive as inevitable, such as human death, for example, by adding stimuli to our modes of thinking. By walking across this bridge, ARAKAWA and Gins give people the opportunity to question their own bodies and reverse their own mortal destiny. Although this project never came to fruition, since the 1990s the duo has completed a number of architectural projects both in Japan and abroad that are designed to allow people to reverse their destiny, and be able to live and "To Not To Die."
ARAKAWA and Madeline Gins, who both refer to themselves as "coordinologists," meaning creators who unify philosophy, science, and art, have collaborated since the early 1960s. Their representative works include The Mechanism of Meaning (1963–), and The Process in Question/Bridge of Reversible Destiny (1973–1989), while their architectural works include Ubiquitous Site, Nagi's Ryoanji, Architectural Body at the Nagi Museum of Contemporary Art, Okayama (1994), Site of Reversible Destiny –Yoro, Gifu (1995), and Reversible Destiny Lofts MITAKA (In Memory of Helen Keller), Tokyo (2005). Showcased here through films and videos are these three architectural projects.
Selected Works & Awards

1979

The Exhibition of Shusaku Arakawa (solo), The Seibu Museum of Art, Tokyo, Japan)

1991-1992

Constructing the Perceiver—Arakawa: Experimental Works (solo), toured Japan in The National Museum of Modern Art, Tokyo, etc.

1997

Reversible Destiny—Arakawa/Gins (solo), Guggenheim Museum, New York, USA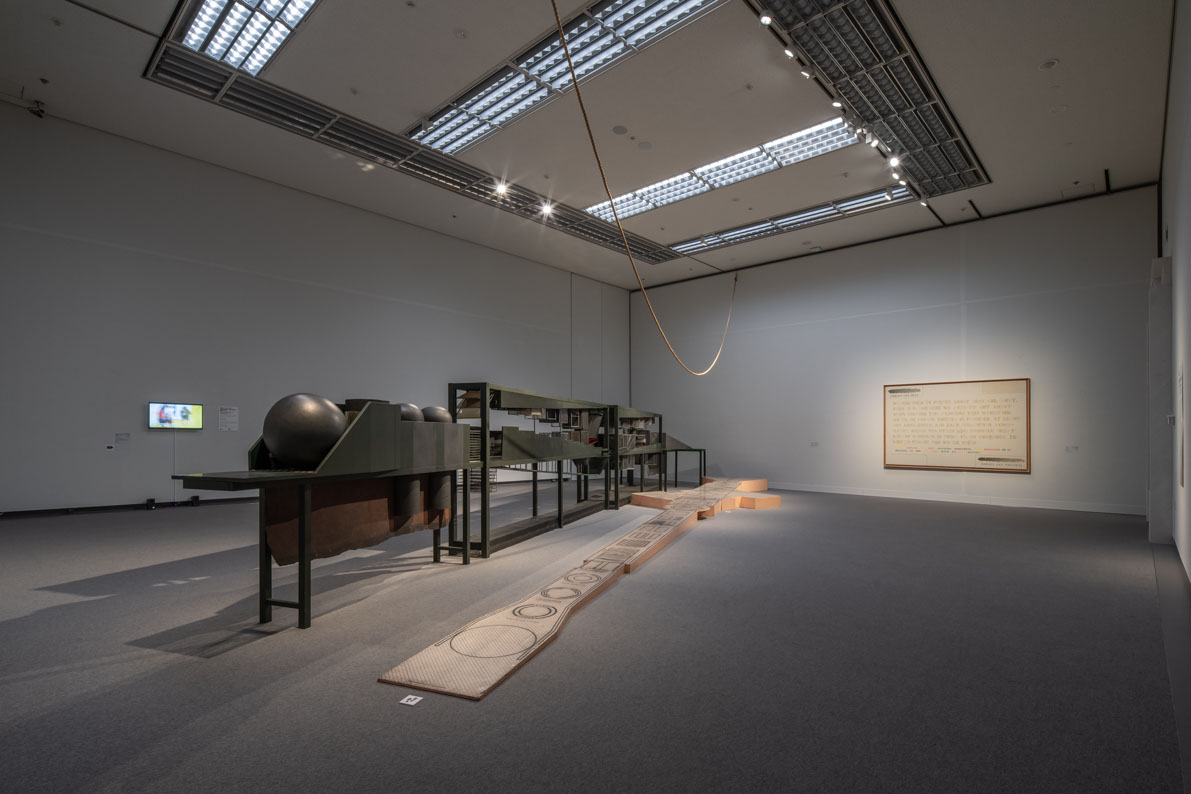 Installation view at Aichi Triennale 2022

©

2016 Estate of Madeline Gins. Reproduced with permission of the Estate of Madeline Gins.
Photo: ToLoLo studio
Open

10:00-18:00 (20:00 on Fridays)

*Last admission 30 min before closing time

Closed

Mondays (except for public holidays)
Venue / Access

Aichi Prefectural Museum of Art Gallery (8F)

3 minutes on foot from Sakae Station on the Higashiyama Subway Line or Meijo Subway Line.
3 minutes on foot from Sakae-Machi Station on the Meitetsu Seto Line.
Related Information
Movie

ARAKAWA + GINS Tokyo Office, Reversible Destiny Foundation
Virtual tour of the Ubiquitous site, Nagi's Ryoanji, Architectural Body, 2021

ARAKAWA + GINS Tokyo Office, Reversible Destiny Foundation
Virtual tour of the site of Reversible Destiny-Yoro, 2021

ARAKAWA + GINS Tokyo Office, Reversible Destiny Foundation
Virtual tour of Reversible Destiny Lofts Mitaka, 2020

The Process in Question/The Bridge of Reversible Destiny 2022 VR version Demo movie
ALTERNATIVE MACHINE
Event

VR
Sat, Sep 3 / Sun, Sep 4 / Sat, Sep 17 / Sun, Sep 18
Pedestrian deck,Aichi Arts Center
Reservation required