ARTISTS
Cao Fei
Born 1978 in Guangzhou, China.
Based in Beijing, China.
Cao Fei mixes social commentary, popular aesthetics, and documentary conventions, and makes occasional references to Surrealism, producing films and installations that are reflections on the rapid developmental changes that are occurring in Chinese society today. She presents her retro sci-fi movie NOVA (2019) in part of a sawtooth-roof mill building owned by the old woolen textile manufacturer in the Bishu district, Kunishima, which was founded in 1850 and remains a key member of the woolen textile industry today.
NOVA took three years to produce. It is the story of a computer scientist involved in an ultra-secret international project using state-of-the-art technology to transform humans into digital signals. Working through a process of trial and error using a variety of samples, he eventually experiments with the technology on his own son, who becomes lost in cyberspace. Wandering endlessly in the interstices between fact and fiction, the boy becomes a ghost-like existence, crossing and re-crossing the past, present, and future, wavering in the face of the truth that he will never be able to return.
The facility that provides the stage for this story is on the site of the Hongxia Theater, an old movie theater that Cao found by accident when exploring potential locations for a new studio. It had already been condemned to be demolished, but it was once a community space and cultural center that served as a social focus for laborers working at nearby factories, built with assistance from the Soviet Union in 1957. According to the artist, when she came face-to-face with history in the process of fading from our memories under the rapid development of contemporary society, her response was not to archive the memory from a museum-like perspective, but to create this film which opens up a new future for the relics as they disappear.
In recent years, Cao Fei has presented major solo exhibitions at venues including the MAXXI, the National Museum of 21st Century Arts (2021; Rome, Italy), the UCCA Center for Contemporary Art (2021; Beijing, China), the Serpentine Galleries (2020; London, UK), the Centre Pompidou (2019; Paris, France), K21 Düsseldorf (2018; Germany), the Tai Kwun Contemporary (2018; Hong Kong), and MoMA PS1 (2016; New York, USA).
Selected Works & Awards

2022

Solo exhibition, MAXXI, the National Museum of 21st Century Arts, Rome, Italy

2021

Solo exhibition, UCCA Center for Contemporary Art, Beijing, China

2020

Solo exhibition, Serpentine Galleries, London, UK

2019

Solo exhibition, Centre Pompidou, Paris, France

2018

Solo exhibition, K21 Düsseldorf, Germany

2018

Solo exhibition, Tai Kwun Contemporary, Hong Kong

2016

Solo exhibition, MoMA PS1, New York, USA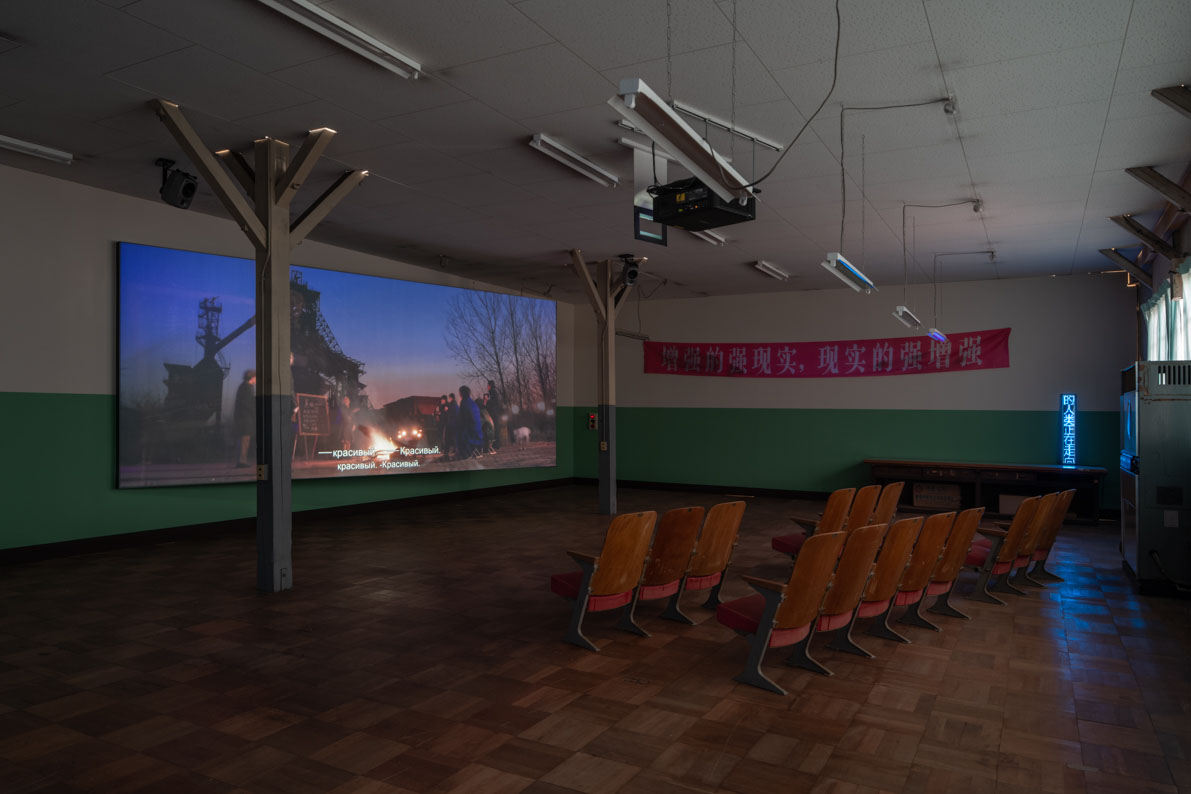 Installation view at Aichi Triennale 2022
NOVA, 2019
Photo: ToLoLo studio
Open

10:00-18:00

*Last admission 15 min before closing time

Screening time

10:00 / 11:38 / 13:16 / 14:54 / 16:32*

*The exhibition shall close during the screening

Duration

98 min.

Language

Chinese with Japanese and English subtitles

Closed

Mondays (except for public holidays)
Venue / Access

KUNISHIMA CO., LTD.

2 minutes on foot from Owari-Ichinomiya Station on the JR Tokaido Line or Meitetsu Ichinomiya Station on the Meitetsu Nagoya Line. 4 minutes by Meitetsu Bus from Ichinomiya Eki (Station) bus stop. 5 minutes on foot from Mabiki Nishi bus stop.