ARTISTS
Delcy Morelos
Born 1967 in Córdoba, Colombia.
Based in Bogotá, Colombia.
Blanketed by an enormous number of cookies and mochi (rice cakes), this space is filled with a spicy fragrance. The sweets, however, are not edible, being made from a number of types of clay used in Tokoname ware pottery. The clay has been dried after mixing with baking soda, cinnamon powder, clove powder, and other ingredients.
One of the rituals in the belief system of the earth-mother goddess Pachamama, which remains active in parts of the Andes Mountains of South America, is a custom in which people give thanks by burying cookies in the ground to symbolize a prolific crop. Inspired by this form of prayer, Delcy Morelos began to create installations incorporating an enormous number of earthen ʻcookies.' For the current exhibition, at a venue that used to be an earthenware pipe factory, the cookies are made mainly from the clay used for local Tokoname ware pottery. In addition, the artist created variations reminiscent of mochi and daifuku (mochi with sweet fillings), which are very familiar to people living in Japan. Visually, it seems to be just an iteration of simple shapes, but the installation is full of elements that also stimulate the senses of touch and smell, such as humidity, fragrance, and the texture of the clay.
Morelos is from Colombia, and has given much thought to the land of her roots. It is a place where these prayers have been offered up by generation after generation since pre-Columbian times, but it is also permeated by the agony and death and the blood and tears caused by horrible violence. The artist has won high acclaim for her large-scale installations that envelop viewers with earth, plants, and other natural materials, as if to produce a new connection between Mother Earth and people. In 2022, she is also participating in the Venice Biennale in Italy.
Selected Works & Awards

2018

Solo exhibition, Röda Sten Konsthall, Gothenburg, Sweden

2018

Solo exhibition, N-C arte, Bogotá, Colombia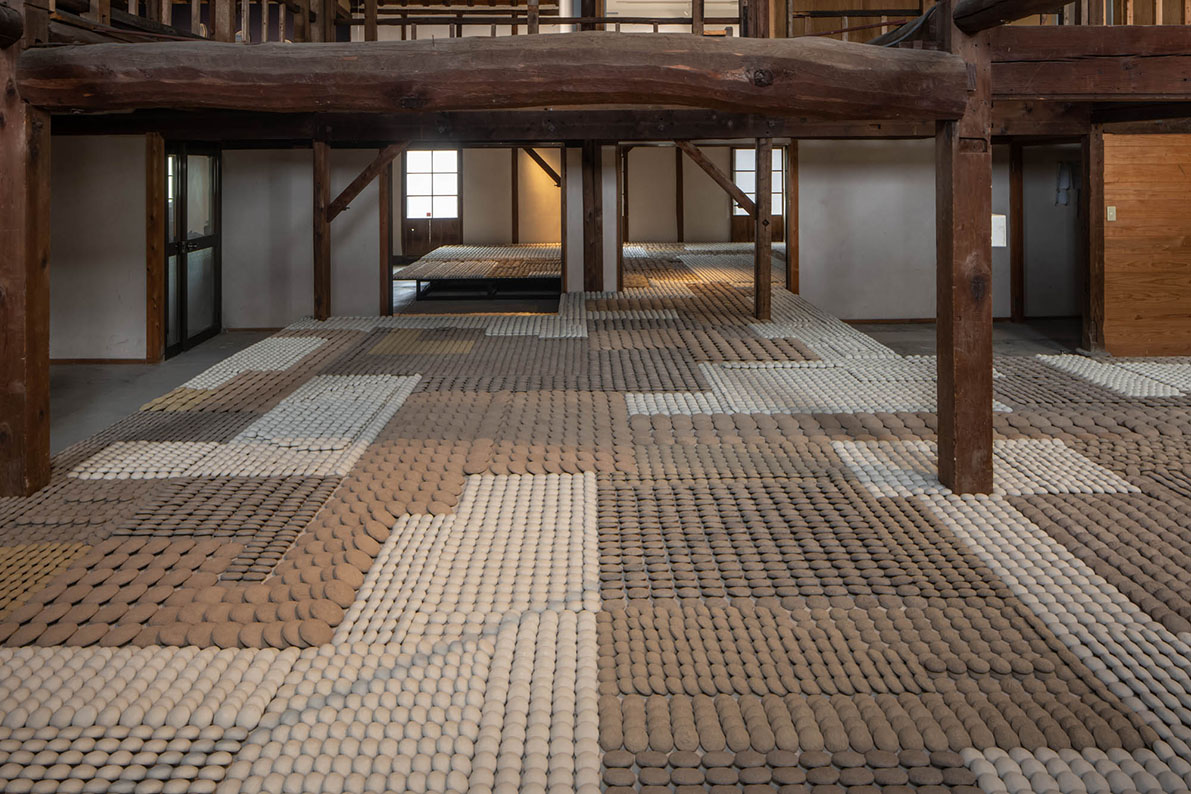 Installation view at Aichi Triennale 2022
Prayer, Horizon, Tokoname / Oración, Horizonte, Tokoname, 2022
Photo: ToLoLo studio
Open

10:00-17:00

*Last admission 15 min before closing time

Closed

Wednesdays
Venue / Access

Former Earthenware Pipe Factory (Maruri-Toukan)

7 minutes on foot from Tokoname Station on the Meitetsu Nagoya Line / Tokoname Line.