ARTISTS
Fanny Sanín
Born 1938 in Bogotá, Colombia.
Based in New York, USA.
Fanny Sanín has been a painter for more than fifty years, consistently producing symmetric abstract paintings composed of flat planes of color and straight lines. In the early 1960s, just after graduating from university in Colombia, she began producing non-figurative paintings with intense brushstrokes. Studying in London in the late 1960s, she was deeply impressed by the monumental exhibition Art of the Real that was on tour from the Museum of Modern Art in New York. The exhibition displayed works by Frank Stella and Ellsworth Kelly, artists working in the US. Their large canvases were divided by sharp lines into simple, flat forms in a style dubbed "minimalist" or "hard-edge." This had a decisive influence on Sanín's subsequent works. In the early 1970s she began structuring her canvases in a strict left-right symmetry using vertical and horizontal bands, and through pursuit of the aesthetic aspect of painting, establishing a style that she follows to this day.
The nine paintings exhibited here were painted between 2008 and 2021. She uses warm colors such as reds, yellows, and browns to paint vertical and diagonal bands and includes horizontal lines that cross the center, giving the canvas a sense of stability. These stylistic features are reminiscent of textiles and temples, among other things, but she never hints at the existence of motifs. Sanín believes that it is important in abstract art to refrain from referring to anything real, thus ensuring the "purity" of the painting.
Fanny Sanín graduated from Universidad de los Andes (Colombia) in 1960 with a degree in art, and then moved to Mexico in 1963 after studying art history and printmaking at the University of Illinois (USA). She mounted her first exhibitions in Mexico (Monterrey in 1964 and Mexico City in 1965), and her first museum exhibition in Colombia (Bogotá in 1965). In 1966 she moved to London to study printmaking at the Chelsea School of Art and the Central School of Art. In 1971 she relocated to New York, where she currently works.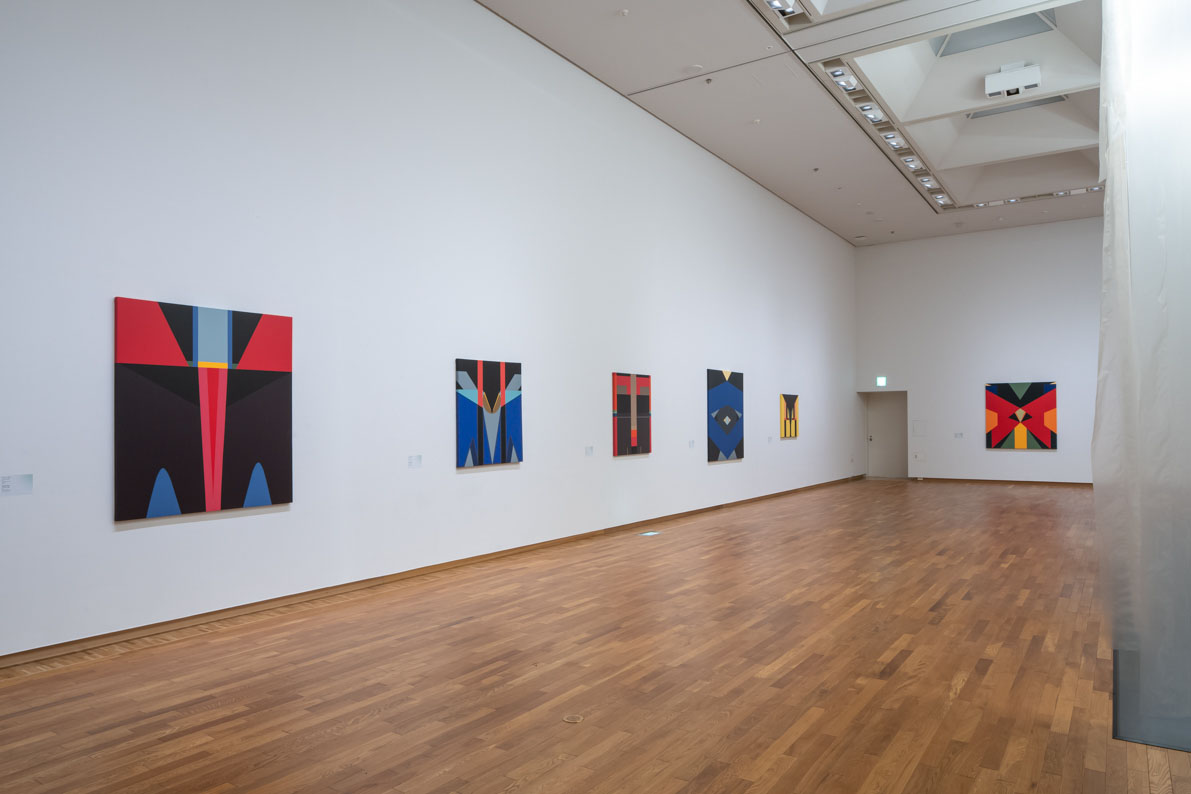 Installation view at Aichi Triennale 2022
Photo: ToLoLo studio
Open

10:00-18:00 (20:00 on Fridays)

*Last admission 30 min before closing time

Closed

Mondays (except for public holidays)
Venue / Access

Aichi Prefectural Museum of Art (10F)

3 minutes on foot from Sakae Station on the Higashiyama Subway Line or Meijo Subway Line.
3 minutes on foot from Sakae-Machi Station on the Meitetsu Seto Line.