ARTISTS
Florencia Sadir
Born 1991 in San Miguel de Tucumán (Tucumán), Argentina.
Based in Cafayate (Salta), Argentina.
The former Pottery Factory is a single facility consisting of multiple buildings, including one housing the former kiln and several connected structures, where various ceramic products were produced through different processes in each of the rooms. Not only the kiln but also the entire site, with its beams and earthen walls, quietly conveys the history of countless ceramic pieces produced by the clay and flame of Tokoname and the lives of numerous people who lived there.
Florencia Sadir's work Rain of Mud (2021), composed of interconnected small black balls, is suspended in one area of the venue. Spread out in the space like a large curtain, the work was created in collaboration with local Tokoname ceramic artist Mizukami Katsuo. He and other young local ceramicists used Tokoname clay to produce more than 12,000 balls, and Sadir worked with Mizukami and others to fire them in the field.
Sadir, who grew up in Cafayate, Salta, Argentina, engages in dialogue with culture rooted in her place of residence, often working collaboratively with friends and local people to create works that render visible humanity's connection to the earth. In the Calchaquí Valley of Argentina, a warm, dry wind known as the Zonda blows in August, carrying large quantities of soil to the eastern foothills of the Andes and stirring up sandstorms that transport sand for thousands of kilometers. When it rains, mud at times falls from the sky. Sadir draws inspiration for her work from this Argentine landscape, manifesting the energy of the earth transformed by wind, water, and fire.
Selected Works & Awards

2021

Things were still in the shadow (solo), Museum of Contemporary Art of Salta, Argentina
Inside there is nothing but a dwelling (solo), Museum of Contemporary Art of Buenos Aires, Argentina

2018

A place without a name (solo), Recoleta Cultural Centre, Buenos Aires, Argentina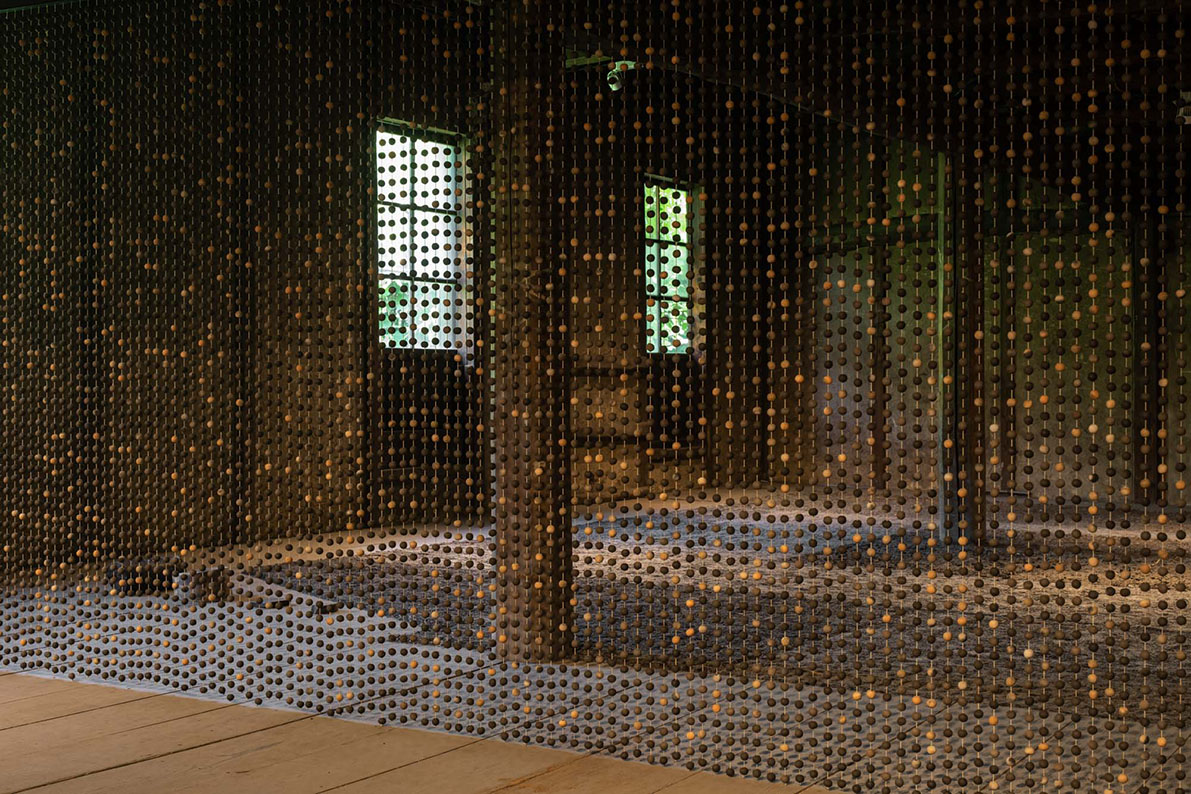 Installation view at Aichi Triennale 2022
Lluvia de barro /Rain of mud, 2021
Photo: ToLoLo studio
Open

10:00-17:00

*Last admission 15 min before closing time

Closed

Wednesdays
Venue / Access

Former Pottery Factory (Aoki-Seitoujyo)

10 minutes on foot from Tokoname Station on the Meitetsu Nagoya Line / Tokoname Line.