ARTISTS
Han Ishu
Born 1987 in Shanghai, China.
Based in Tokyo, Japan.
It is said that cotton was imported to the Mikawa region of Aichi Prefecture in the 8th century, developed greatly under the patronage of the Tokugawa family during the Edo period. Han Ishu's new work A Bon dancing thread born of dust (2022), in which white threads sway and flutter inside a factory, was filmed at the Hayashi Obi Sash Padding Factory in Nishio City, Aichi Prefecture. Han visited this company, which was founded in 1918, and from the cotton dust and lint that fell like snow on the machines that still weave the padding used to line kimono obi sashes, he extrapolated on this theme in an imaginative way to address various other issues pertaining to the history and labor that has accumulated on this site.
Han, who moved from Shanghai to Aomori at the age of nine, has been on a search for a sense of his own existence and position in a place with a different language and culture, measuring his distance from the world. In his previous works, he used his body as a means of intervening in space by dancing, walking, and swimming in films and videos. In his new work, the movement of threads fluttering in mid-air represents the expansion of Han's imagination and his interventions in space. For Han, dust is a metaphor for "memories that continue to accumulate, snow that never melts, and the layer of skin that covers the inside of the factory," which he envelops in the sounds of factory machinery, the everyday sounds of that factory, as well as the sound of Han tapping on the parts.
Han has been examining the notion of "labor" from his own unique perspective. While working with foreign technical intern trainees at a farmhouse in Ibaraki Prefecture, for example, he helped with the harvest and felt "as if the spinach had begun to chirp, which they had learned to do by imitation." Han then created an installation in which birds could be heard singing from a cardboard box containing cutouts in the shape of birdcages. In Kobe, from which many Japanese had left for Brazil to work as laborers from the early 20th century up until Japan's period of rapid economic growth, Han also created a work in 2019 on the subject of technical interns from China, Vietnam, and Indonesia. Perspectives related to labor, the body, and migration all prompt us to think about notions of existence and vitality as well. What can we imagine from these white threads fluttering in this space?
Selected Works & Awards

2021

MOT Annual 2021 A sea, a living room and a skull, Museum of Contemporary Art Tokyo, Japan

2020

Grand Prix, Nissan Art Award, Japan

2020

Thank You Memory: From Cidre to Contemporary Art, Hirosaki Museum of Contemporary Art, Aomori, Japan

2019

Publicness of the Art Center Phase I & II, Art Tower Mito, Ibaraki, Japan

2017

The Drifting Thinker (solo), Museum of Contemporary Art Shanghai, China

2016

Sights and Sounds: Highlights, Jewish Museum, New York, USA

2015

In the Wake – Japanese Photographers Respond to 3/11, Museum of Fine Arts, Boston, USA
Exhibition
A Bon dancing thread born of dust
, 2022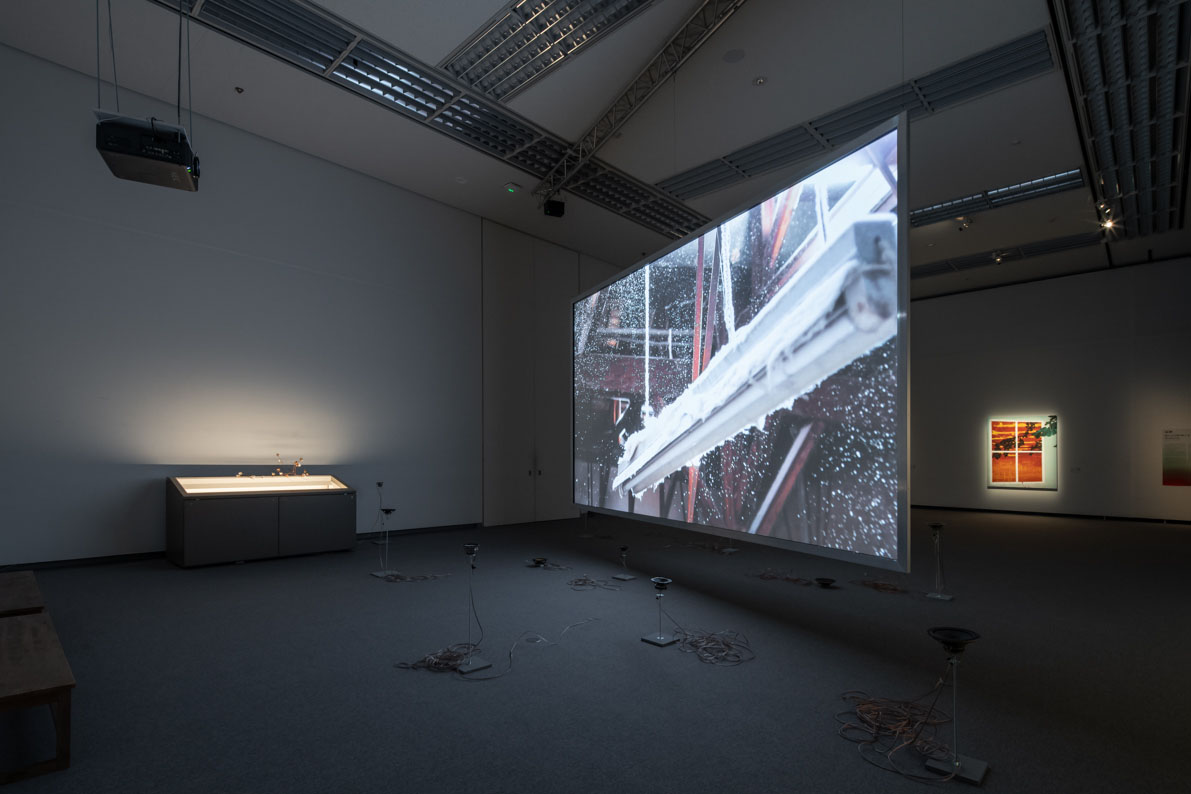 Installation view at Aichi Triennale 2022
A Bon dancing thread born of dust, 2022
Photo: ToLoLo studio
Open

10:00-18:00 (20:00 on Fridays)

*Last admission 30 min before closing time

Closed

Mondays (except for public holidays)
Venue / Access

Aichi Prefectural Museum of Art Gallery (8F)

3 minutes on foot from Sakae Station on the Higashiyama Subway Line or Meijo Subway Line.
3 minutes on foot from Sakae-Machi Station on the Meitetsu Seto Line.