ARTISTS
Ishiguro Kenichi
Born 1986 in Kanagawa, Japan.
Based in Kyoto and in Shiga, Japan.
Ishiguro Kenichi works with historical subjects, materials, and other phenomena rooted in the land, creating sculptures and images that serve as "nodes" to bind these together. For example, in a work that was unveiled in 2021, Ishiguro unravels the history of the non-native largemouth bass that inhabit Lake Biwa and the works of Constantin Brancusi in the collection of the Museum of Modern Art, Shiga, showing that people, creatures, and substances that have never come into contact with each other are in fact not totally unrelated. In a second floor classroom of the former Ichinomiya City Central Nursing School, the remains of an Ichiigashi (Quercus gilva) tree, a symbol of the region that once grew at the Jizoji Temple in Honmachi, Ichinomiya City, have been digitized using a 3D scanner. A sculpture in which the stump is restored using a CNC machine tool with water-based resin is exhibited along with a video about coffee culture in Ichinomiya.
The poet Sato Ichiei, who grew up in Hagiwara Town, Ichinomiya City, was impressed by an Ichiigashi tree standing alone after its surroundings were destroyed by fire in wartime, and this led to his Kashi no Ki Bunkaron (oak tree culture theory)*. Ishiguro's work, which could refer back to this, was inspired by the fact that the giant tree was removed from Japan's list of cultural treasures on July 23, 2019 and cut down due to its old age. It had been known since about 1970 that the tree was being weakened by the contamination and environmental pollution caused by industrial development, but now all that remains of the tree that lived until recently is a stump that is part of a landscape that does not even catch the eye. Through this installation, Ishiguro mechanically transforms an ancient tree in the context of Aichi Prefecture's history, with its industrial manufacture of automobiles, aircraft, and machinery. By scraping man-made material (the exact opposite of forming annual rings), this work makes people look at the relationship between the natural and artificial one million years in the future by artificially regenerating and expanding a cross section of the irreversible time that flowed through this land.
Ishiguro's recent exhibitions include Light of My World at the former Ginrei Building (2021, Kyoto, Japan), Soft Territory at the Museum of Modern Art, Shiga (2021, Japan), and Sustainable Sculpture at Komagome Soko (2020, Tokyo, Japan). He also co-founded Yamanaka Suplex, located on the border of Kyoto and Shiga Prefectures, in 2014, and he is still based at that studio.
*Kashi no Ki Bunkaron [oak tree culture theory]: the theory that Ise Bay and Nobi Plain are the birthplace of Japanese culture, proposed by poet Sato Ichiei (1899–1979).
Selected Works & Awards

2021

Light of My World, Former Ginrei Building, Kyoto, Japan

2021

Soft Territory, The Museum of Modern Art, Shiga, Japan

2020

Sustainable Sculpture, Komagome Soko, Tokyo, Japan
Exhibition
Morning at Sunset, Monument for Two Moments
, 2022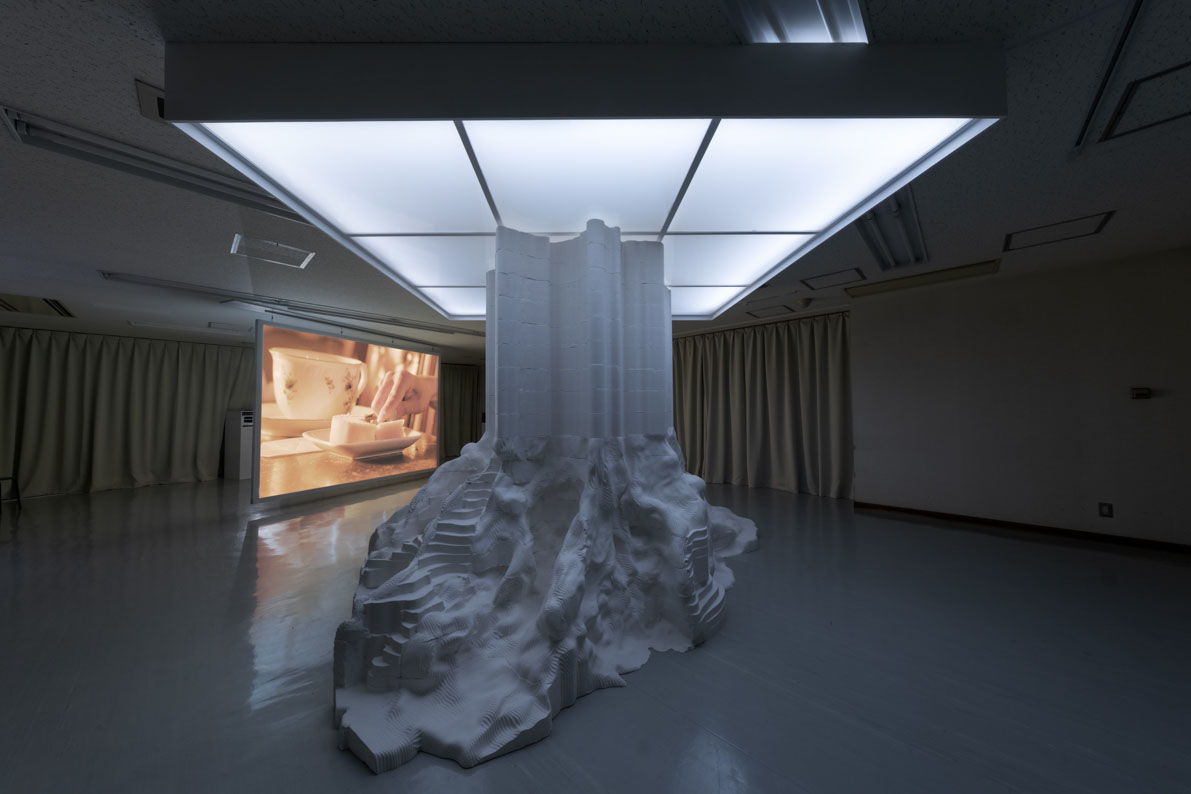 Installation view at Aichi Triennale 2022
Morning at Sunset, Monument for Two Moments, 2022
Photo: ToLoLo studio
Open

10:00-18:00

*Last admission 15 min before closing time

Closed

Mondays (except for public holidays)
Venue / Access

Former Ichinomiya Central Nursing School (2F)

16 minutes on foot from Owari-Ichinomiya Station on the JR Tokaido Line.
16 minutes on foot from Meitetsu Ichinomiya Station on the Meitetsu Nagoya Line.