ARTISTS
Jackie Karuti
Born 1987 in Nairobi, Kenya.
Based in Nairobi, Kenya.
Jackie Karuti's installation sets off with the mounted clocks still visible in the library and most of the rooms at the former nursing school. The hands of the clocks became an extended way to think about time, creation and labour, body anatomy and prosthetics, planetary destruction and domination, access and care and animal symbolism as a way to think about non-human communication.
Karuti's use of moving images, sculptural forms, scans, drawings and electrical objects position the library as a site where knowledge is not only accessed and produced but an operating room where imagination is projected beyond normal human language and understanding. She further states that the library is not only a space for the intellectual but the worker as well. This is especially seen through her use of an owl and a crow; two birds known to symbolize wisdom and skill respectively. Placed side by side, they take on opposite but necessary meanings with the owl as a quiet observer and the crow as a noisy scavenger.
The final result is an expanded multimedia experience that links the library to a (hospital) theatre where multiple observations and transformations take place and are seemingly powered by the machines that tirelessly construct and illuminate the space.
Based in Nairobi, Kenya, Karuti focuses on the way that scientific knowledge takes the form of words and images, inviting us to think deeply about how the imagination intervenes, exerting an influence on social and natural phenomena in real life, through video, performance, and drawing. Her projects include In the Case of Books (2013–2015), in which participants visit and dust off books in various libraries and talk about them, participation in the Dakar Biennale (2018; Senegal) and the Lofoten International Art Festival (2019; Norway), and a solo exhibition at the Nassauischer Kunstverein Wiesbaden (2021; Germany).
Selected Works & Awards

2021

Shapeshifting & the Impossibility of Weathered Wood (solo), Nassauischer Kunstverein Wiesbaden, Germany

2019

Lofoten International Art Festival, Norway

2018

13th Dakar Biennale, Senegal

2013-2015

Library project; In The Case of Books, Nairobi, Neyna/Kampala, Uganda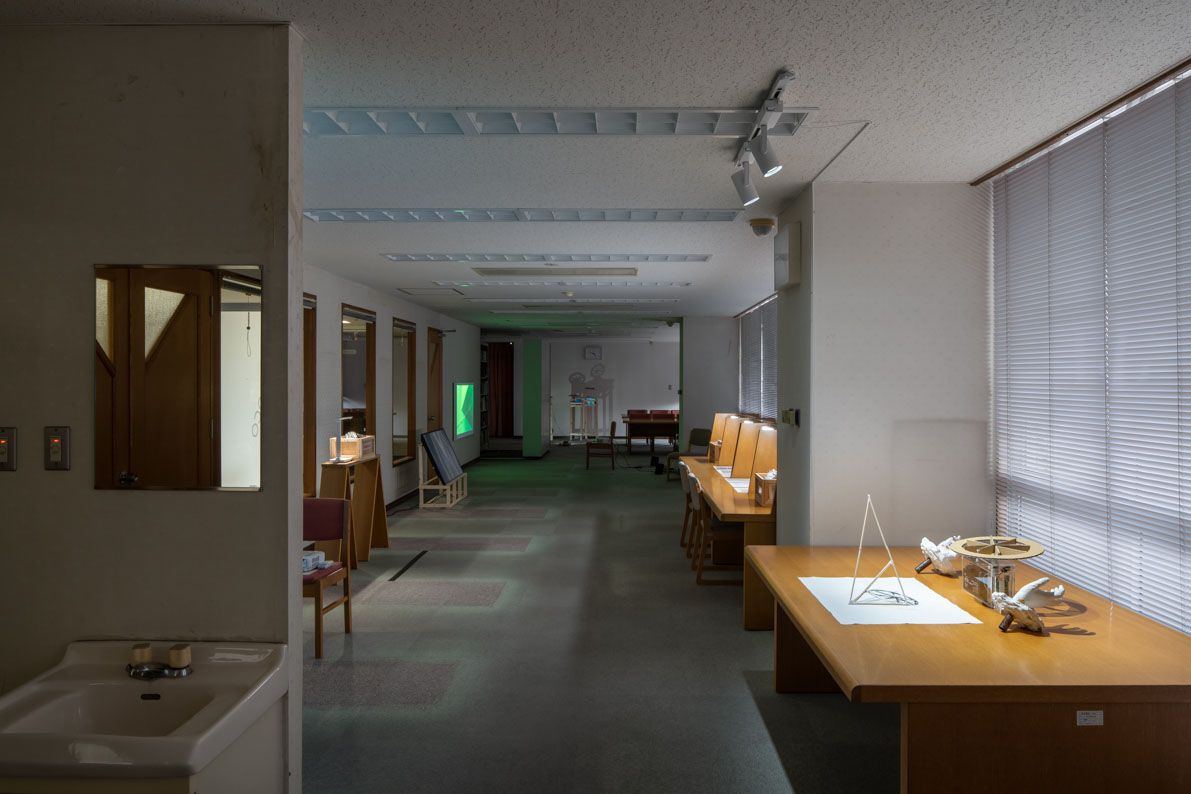 Installation view at Aichi Triennale 2022
Electronic Theater, 2022
Photo: ToLoLo studio
Open

10:00-18:00

*Last admission 15 min before closing time

Closed

Mondays (except for public holidays)
Venue / Access

Former Ichinomiya Central Nursing School (3F)

16 minutes on foot from Owari-Ichinomiya Station on the JR Tokaido Line.
16 minutes on foot from Meitetsu Ichinomiya Station on the Meitetsu Nagoya Line.