ARTISTS
Kate Cooper
Born 1984 in Liverpool, UK.
Based in London, UK and Amsterdam, the Netherlands.
Kate Cooper is concerned with new visual languages that complicate divisions between physical and virtual, and interested in what a video can do as a visual somatic experience, instead of what it represents.Cooper works with Computer Generated.
Imagery (CGI) to make us consider the ways in which new technology and images could allow new and diverse approaches to the body. Recently her focus has shifted to consider neurodiverse bodies, which is a continuation of an awareness on diversity in society at large including feminist or queer discourse.
Created for the Aichi Triennial 2022, this new work Untitled (After Somatic Aliasing) operates within the visual language of X-rays, depicting bodily fragments in perpetual motion, which move in and out of focus, in constant repetition. Working with Computer Generated X-ray images, Cooper combines them with found folly sounds in order to produce bodily "affect." This work is built through the logic of stimming, a term used to describe repetitive and self-stimulating movements or sounds primarily used by neurodivergent Bodies. The video attempts to recreate bodily experiences, to stim, through the technology of the video itself. Cooper is interested in how, when used as a coping mechanism, stimming can be a strategy of refusal to partake in a society marked by physical exhaustion. While she had been always interested in the concept and metaphor of the virus in relations to bodies and images, the new work shows her thinking about sickness and neurodiverse approaches as a form of resistance – and what they mean within capitalism production.
The word in the title Aliasing is related to a technological term (Temporal Aliasing) where the image is not fixed, it's moving and then you can see mistakes. Cooper says "I like this play of meaning where the image becomes this stand in for the body (an alias) but also the idea of a body as an image, as a new copy, in motion, not fixed, constantly performing and re-re-appropriating itself." Her work proposes alternative ways of existing with and through technologies often used to constrain us.
Selected Works & Awards

2021

Symptom Machine (solo), SCAD Museum of Art, Savannah, USA

2021

The Modern Exorcist, Taipei Fine Arts Museum, Taiwan

2021

2021 Triennial: Soft Water Hard Stone, New Museum, New York, USA

2021

Journey Through a Body, Kunsthalle Düsseldorf, Germany

2020

Screens Series: Kate Cooper (solo), New Museum, New York, USA

2020

Antibodies, Palais de Tokyo, Paris, France

2019

Symptom Machine (solo), Hayward Gallery, London UK

2019

Sensory Primer (solo), A Tale of a Tub, Rotterdam, the Netherlands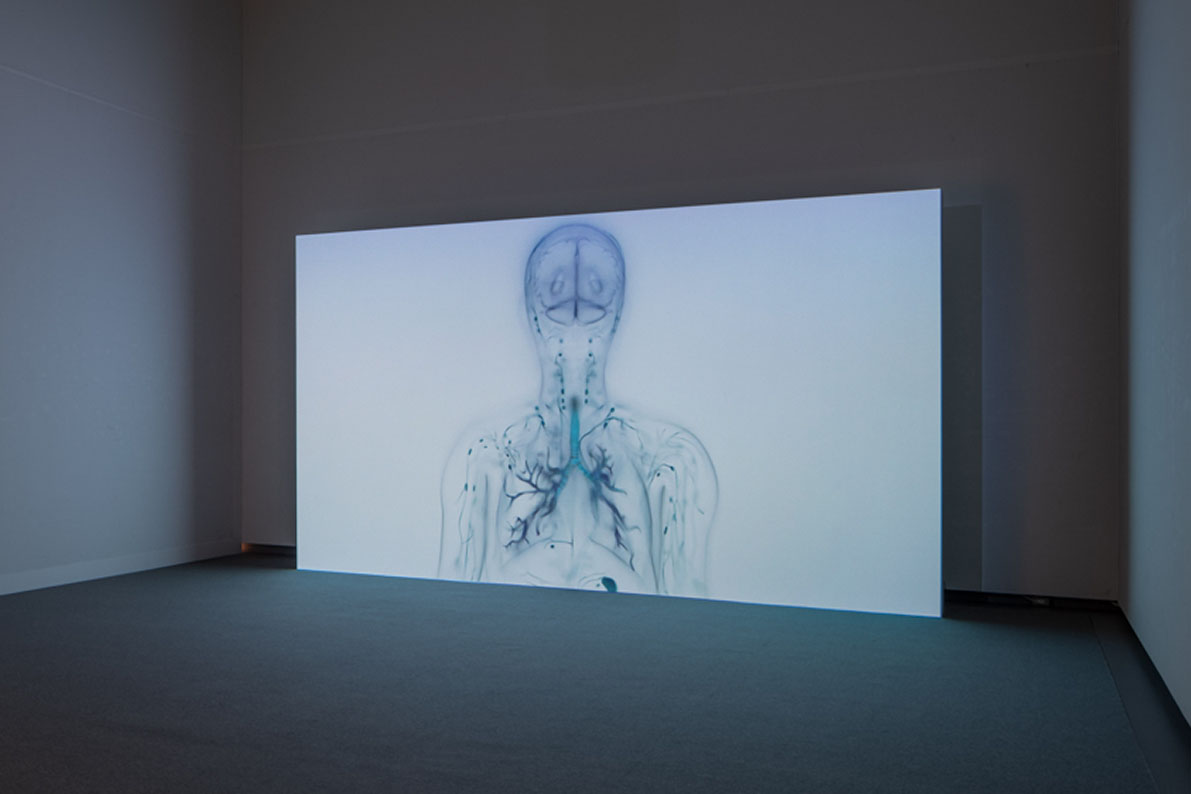 Installation view at Aichi Triennale 2022
Untitled (After Somatic Aliasing), 2022
Photo: ToLoLo studio
Exhibition
Untitled (After Somatic Aliasing)
, 2022
Open

10:00-18:00 (20:00 on Fridays)

*Last admission 30 min before closing time

Closed

Mondays (except for public holidays)
Venue / Access

Aichi Prefectural Museum of Art Gallery (8F)

3 minutes on foot from Sakae Station on the Higashiyama Subway Line or Meijo Subway Line.
3 minutes on foot from Sakae-Machi Station on the Meitetsu Seto Line.