ARTISTS
Kishimoto Sayako
Born 1939 in Aichi, Japan. Died in 1988.
Based in Tokyo and Aichi, Japan.
Artist Kishimoto Sayako espoused a social revolution that would fill the world with love and freedom; her fierce, fantastical, grandly generous paintings serving as powerful advocates for this vision of imminent utopia. Presented here are paintings by Kishimoto, and documentation of some of her performances. In her pictures animals such as cats, insects and gorillas make a frequent appearance, likely as avatars of the artist herself, dashing about the cosmos in lively fashion on a quest to break free from social convention.
Kishimoto also referred to herself as a "messenger from hell" taking on other people's personal purgatories of pain and suffering, and conducted performances around Nagoya in locations such as the Osu and Sakae districts. Many of these used paintings, and paintings seem to have played the role of props for her performances, or scrolls to illustrate her ideas. Presented alongside were poems penned by the artist. Thus Kishimoto's practice not only traversed the genres of painting, bodily expression, and writing, but actually leaped boldly out of the gallery. Kishimoto poured body and soul into these myriad forms of expression, consistently calling for a transformation of unequal power structures, and an end to the deep-rooted male domination of society.
Born and raised in Nagoya, Kishimoto left to attend university in Tokyo, and joined Arakawa Shusaku, Akasegawa Genpei et al as part of the short-lived Neo-Dada Organizers collective. After spending the 1960s on the Tokyo avant-garde scene she returned to her home town, where she continued to produce and present an impressive stream of works, before dying in 1988 after a long illness at the age of forty-nine. Now, over thirty years later the sheer energy of her expression, and her messages, strike a chord with more people than ever.
Selected Works & Awards

2011

Revived Kishimoto Sayako, The Miyagi Museum of Art, Japan

2006

REAL UTOPIA, Stories of the Unlimited, 21st Century Museum of Contemporary Art, Ishikawa, Japan

2005

Japanese Women Artists in Avant-Garde Movements, 1950-1975 (solo), Tochigi Prefectural Museum of Fine Arts, Japan

1990

Memorial Exhibition of Kishimoto Sayako, Electricity Museum Building, Nagoya, Aichi, Japan

1988

Momotaro Onna Zamrai/Kishimoto Sayako's Evening of Song and Narrative (solo), ASG Garando, Aichi, Japan

1983

21C. Erotical Flying Machines - A Trip to the Galaxy (solo), Love Collection Gallery, Aichi, Japan

1981

I am a Flying Red Cat! (solo), Gallery 79, Aichi, Japan
White Mountain Gorilla (solo), Gallery 79, Aichi, Japan

1980

The Breakdown of the Genesis- and Sea (solo), Box Gallery, Aichi, Japan

1967

Look Left!! (solo), Sakura Gallery, Aichi, Japan

1960

The 12th Yomiuri Indépendant Exhibition, Tokyo Metropolitan Art Museum, Japan (-1963)
2nd Neo-Dada Organizers Exhibition, Masunobu Yoshimura's studio, Tokyo, Japan)
3rd Neo-Dada Organizers Exhibition, Hibiya Gallery, Tokyo, Japan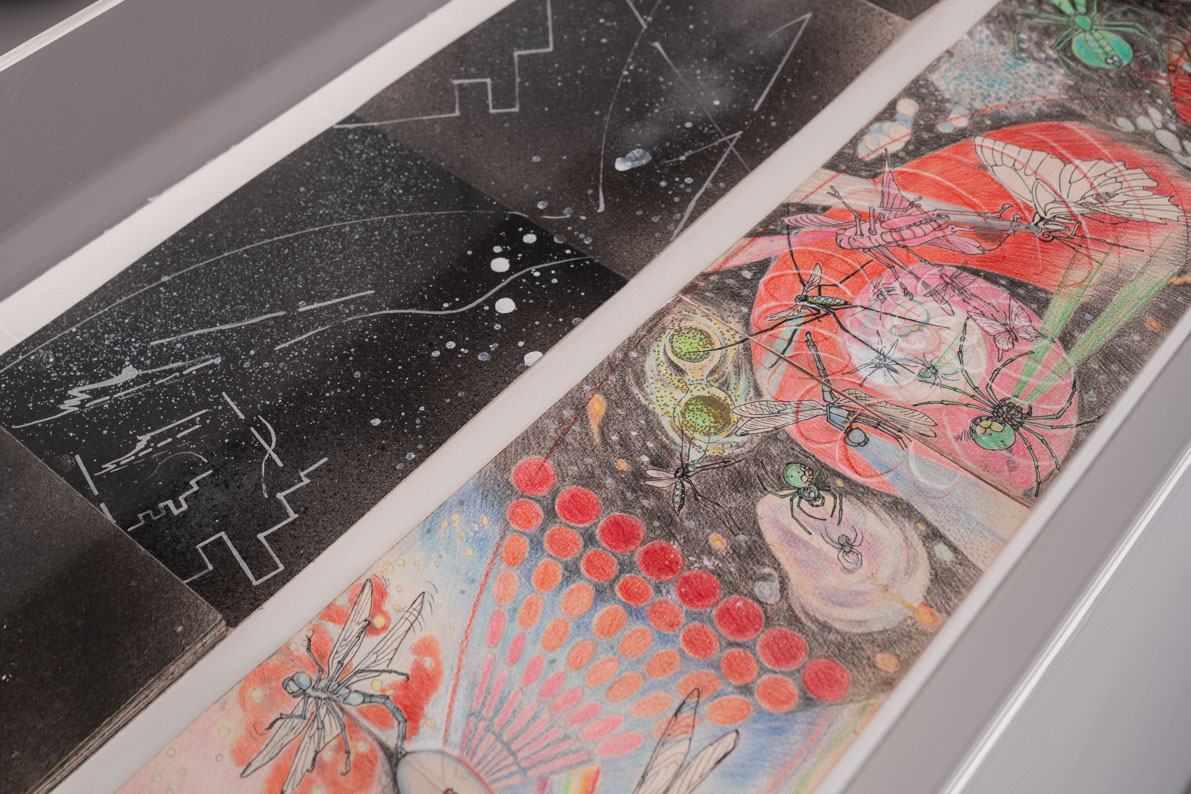 Installation view at Aichi Triennale 2022
21c. Erotical Flying Machines- A Trip to the Galaxy (Original Drawing), 1983 [detail]
Collection of 21st Century Museum of Contemporary Art, Kanazawa
Photo: ToLoLo studio
Open

10:00-18:00 (20:00 on Fridays)

*Last admission 30 min before closing time

Closed

Mondays (except for public holidays)
Venue / Access

Aichi Prefectural Museum of Art Gallery (8F)

3 minutes on foot from Sakae Station on the Higashiyama Subway Line or Meijo Subway Line.
3 minutes on foot from Sakae-Machi Station on the Meitetsu Seto Line.