ARTISTS
Mukai Eriko
Born 1990 in Hyogo, Japan.
Based in Akita, Japan.
Mukai Eriko creates performances based on motifs of invisible systems such as livestock slaughter, oil drilling, government bond mechanisms, and water vapor circulation. She considers the state in which the materials most strongly display their materiality as "sculpture," and she transforms the mechanisms of the social and natural phenomena that serve as her subjects into life-sized devices that she then sets in motion. In doing so, she places the emphasis on showing the "material physicality" that is expressed through the performance rather than on "human physicality."
Sumi Memorial Hall is the sole remaining building by architect Tange Kenzo in Aichi Prefecture. After many twists and turns this building was completed in 1957. The pillars and walls are bare concrete, and the exposed woodgrain and knots left by the formwork give the building a strong materiality. In the courtyard of this modernist architecture, Mukai presents a performance based on her research on Bisai City (now part of Ichinomiya City), which flourished thanks to its spinning and wool textile industries. In addition, the process for making wool was broken into several elements, and a record of the manipulation of the "material physicality" that has taken place is exhibited along with the highly abstract device. Traversing physical sensation and conjecture about symbolic acts, the artist's actions eventually give form to an image that attains the intended objective. Although it is keeping with the history of the Aichi Triennale, where contemporary art and performing arts coexist, this can be considered an organic practice that is not bound by either domain or frame.
Mukai's recent exhibitions include the 300/500000 (1942) solo exhibition at the Hiroshima Art Center (2021, Japan), Arts and Routes at the Akita Museum of Modern Art (2020, Japan), Impurity/Immunity at the Tokyo Arts and Space Hongo (2017, Japan), and New Rube Goldberg Machine at KAYOKOYUKI and Komagome Soko (2016, Tokyo, Japan).
Selected Works & Awards

2022

59th Venice Biennale, Italy

2021

300/500000 (1942) (solo), Hiroshima Art Center, Japan

2020

Arts and Routes, Akita Museum of Modern Art, Japan

2017

Impurity/Immunity, Tokyo Arts and Space Hongo, Japan

2016

New Rube Goldberg Machine, KAYOKOYUKI/Komagome Soko, Tokyo, Japan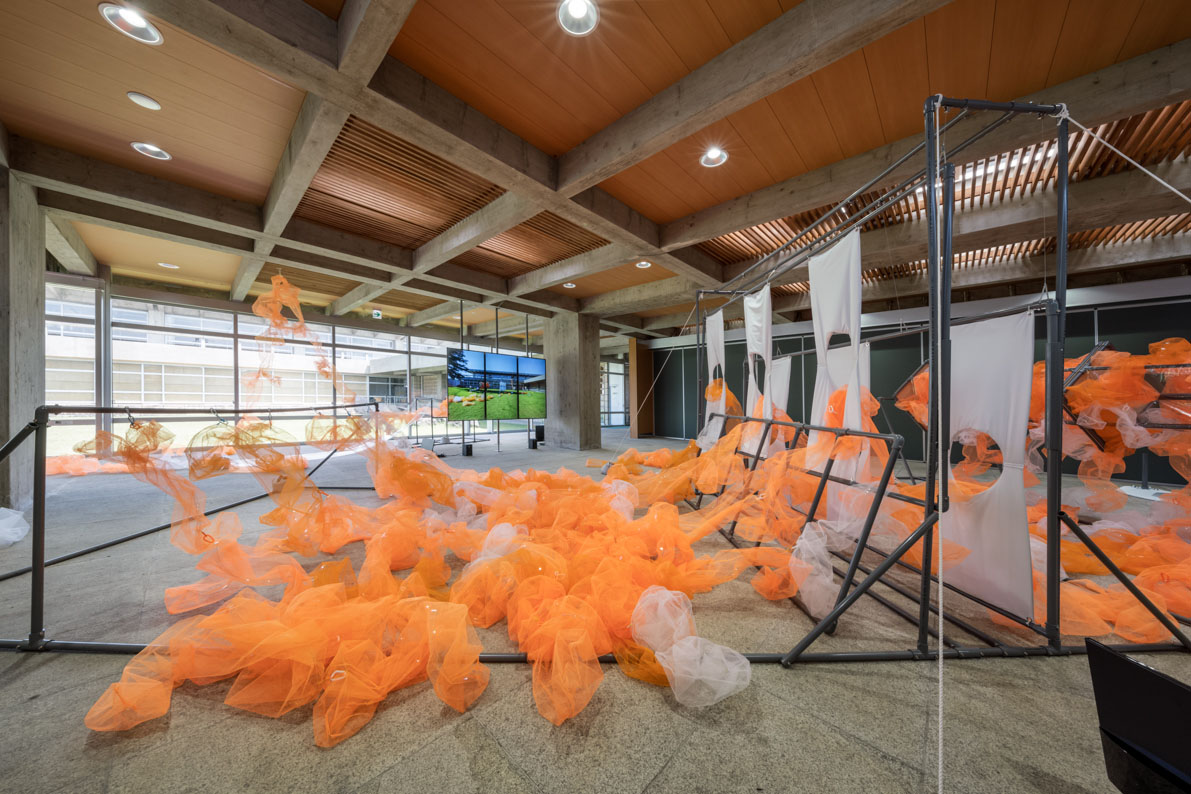 Installation view at Aichi Triennale 2022
approach 13.0, 2022
Photo: ToLoLo studio
Open

10:00-18:00

*Last admission 15 min before closing time

Closed

Mondays (except for public holidays)
Venue / Access

Sumi Memorial Hall

2 minutes on foot from Owari Ichinomiya Station on the JR Tokaido Line or Meitetsu Ichinomiya Station on the Meitetsu Nagoya Line. 12 minutes by Meitetsu Bus from Ichinomiya Eki (Station) bus stop. 9 minutes on foot from Owari Nakashima bus stop.
Related Information
Event

Performance
Sun, Jul 31, 16:00 Sun, Oct 9, 15:00
Ichinomiya, Sumi Memorial Hall
No reservation required (first come, first served)