ARTISTS
Prinz Gholam
Began collaboration in 2001 and based in Berlin, Germany.
Wolfgang Prinz, born 1969 in Leutkirch, Germany.
Michel Gholam, born 1963 in Beirut, Lebanon.
The Takeda House is a mercantile house that continues to be run by descendants of Takeda Shokuro, who is credited with originating Arimatsu Narumi shibori, a type of traditional Japanese tie-dyed fabric that began to be produced in abundance early in the seventeenth century, during Japan's Edo period. The house has a history of using various techniques to sell shibori fabric products to people passing along the Tokaido (the highway connecting Kyoto and Edo), and getting them to distribute the products. In the rooms of the Takeda House, a number of expressive-looking face masks created by Prinz Gholam have been hung on walls and transoms.
Since ancient times, masks have been used in various contexts, including religious ceremonies and rituals, theatrical performances and balls, and for magical purposes. Masks can change the wearer's personality or to transform the wearer into an anonymous entity. Masks are used for hygienic reasons, particularly since the COVID-19 pandemic, but at the same time they cover up people's faces and facial expressions, so they have come to carry multifaceted meanings, both epidemiologically and socially. In our current era, which we might call an era of plague, Prinz Gholam's masks, recorded performance sessions and the title (There are eyes) provoke reflection on the situation we are all in.The individually drawn masks function as an interface between the performers' bodies and the drawings which are seen in the background of the video. The face of the performer becomes transient, while every movement and bodily expression is enhanced.
Wolfgang Prinz and Michel Gholam have been active as the artistic duo Prinz Gholam since 2001. With a focus on human behavior and movements as they are determined within cultural and social contexts, they raise mental and physical issues mainly through live performances that they execute themselves. In addition, they have created installations involving videos, drawings, objects, photographs, texts, and other media. Major presentations include those at documenta 14 (2017; Athens, Greece and Kassel, Germany), Pola Museum of Art (2019; Kanagawa), and Mattatoio (2021; Rome, Italy).
Selected Works & Awards

2022

Mon cœur est un luth suspendu, Musée d'art contemporain de la Haute-Vienne - Château de Rochechouart, France

2022

The Survivor and the Dreamer, Residenzschloss Dresden (SKD), Germany

2021

While Being Other, Mattatoio, Rome, Italy

2021

Winners of the Villa Massimo Rome Prize 2020/21

2020

My heart is a poised cithara, Hidden Histories, Palazzo Altemps, Rome, Italy

2017

documenta 14, Athens, Greece/Kassel, Germany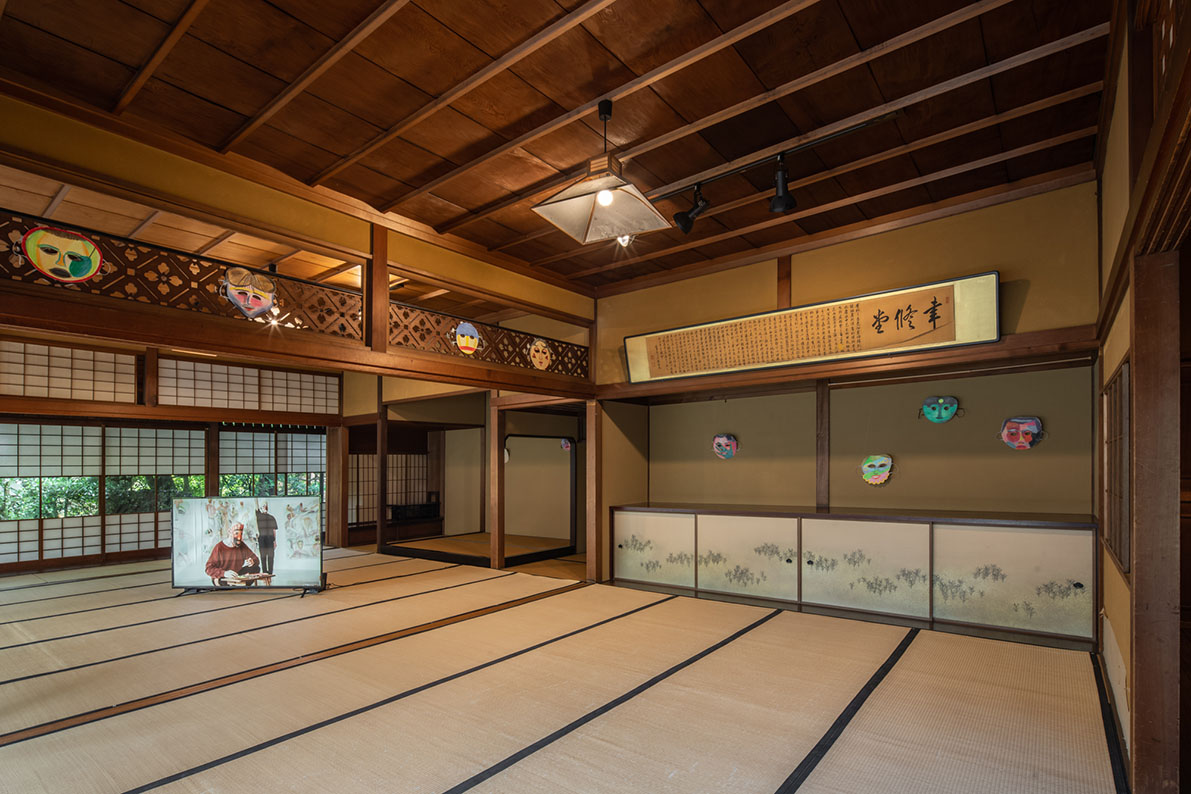 nstallation view at Aichi Triennale 2022
There are eyes, 2022
Photo: ToLoLo studio
Open

10:00-17:00

*Last admission 15 min before closing time

Closed

Wednesdays
Venue / Access

House of Takeda

4 minutes on foot from Arimatsu Station on the Meitetsu Nagoya Line.