ARTISTS
Tanya Lukin Linklater
Born in 1976 in Kodiak, USA.
Based in North Bay, Canada.
The guardian deity Shoki watches over residents from above the roof tiles of the Kawamura Family Residence's earth-walled storehouse. On the first floor of the two-story structure is a space containing an installation composed of a video, scarves, and stones by artist Tanya Lukin Linklater, whose Indigenous Alutiiq homeland is in southwestern Alaska. In that it is a space for preservation of important objects, the storehouse, with wooden shelves on its walls, resonates with the museum storage room where much of the video piece An Amplification Through Many Minds (2019) takes place. This storeroom is a facility of the Phoebe A. Hearst Museum of Anthropology in the US, which has a collection including items such as baskets, winter clothing, and tobacco pouches passed down from generation to generation among the Indigenous peoples of Alaska and interwoven with traces of their cultural practices and knowledge. The first half of the video is silent, reflecting the way the objects are hidden from view in a storage room, and Lukin Linklater carefully handles each item of her ancestors' handiwork as if turning the pages of an old book. Lukin Linklater's work is often concerned with embodied knowledges. Her conversations with dancers allow for Indigenous ideas to be physicalized within this storeroom.
Meanwhile, kohkom scarf sculptures exerts a powerful physical presence in the storehouse. Kohkom scarves are worn by "kohkoms," or grandmothers, and other community members within different contexts on Turtle Island (an Indigenous name for the North American continent). For this exhibition, a blue scarf was chosen for its association with the west (the direction of this venue when seen from Alaska), and with the earth, stones, and mountains. Stones gathered from Aichi Prefecture are placed in relation to the kohkom scarf sculptures. In accordance with the artist's written instructions, the intent of the work was explained to stones by a river, the stones were then carefully handled so that they could see the scenery while in transit, and after the Triennale closes, they will be returned to the river from which they came. The entire work consisting of these elements is titled grassesgrassesgrasses.* Lukin Linklater's work is informed by the process of caring for, relearning, restoring, and passing on practices, and by awareness of the need to protect Indigenous knowledges and cultures from the rampant consumerism of the capitalist economy.
Lukin Linklater has exhibited her work at the New Museum Triennial in New York in 2021 and the San Francisco Museum of Modern Art in the US, and her first book of poetry, Slow Scrape, was published in 2020.
 * Quote from Layli Long Soldier's poetry collection Whereas (2017, Graywolf Press). Lukin Linklater chose this phrase as the title of her work because of the poem's references to the violence of American history, the phrase's connection to "the grassroots people" (a term sometimes used to refer to indigenous peoples of Canada), and its association with the earth and stone elements of the work.
Selected Works & Awards

2021

New Museum Triennial, New York, USA

2021

Herb Alpert Award in the Arts for Visual Art, Santa Monica, USA

2020

Slow Scrape (First collection of poetry)

2019

SFMOMA, San Francisco, USA

2019

Chicago Architecture Biennial 2019, USA

2017

Art Gallery of Ontario, Toronto, Canada

2016

Remai Modern, Saskatoon, Canada

2015

EFA Project Space + Performa, New York, USA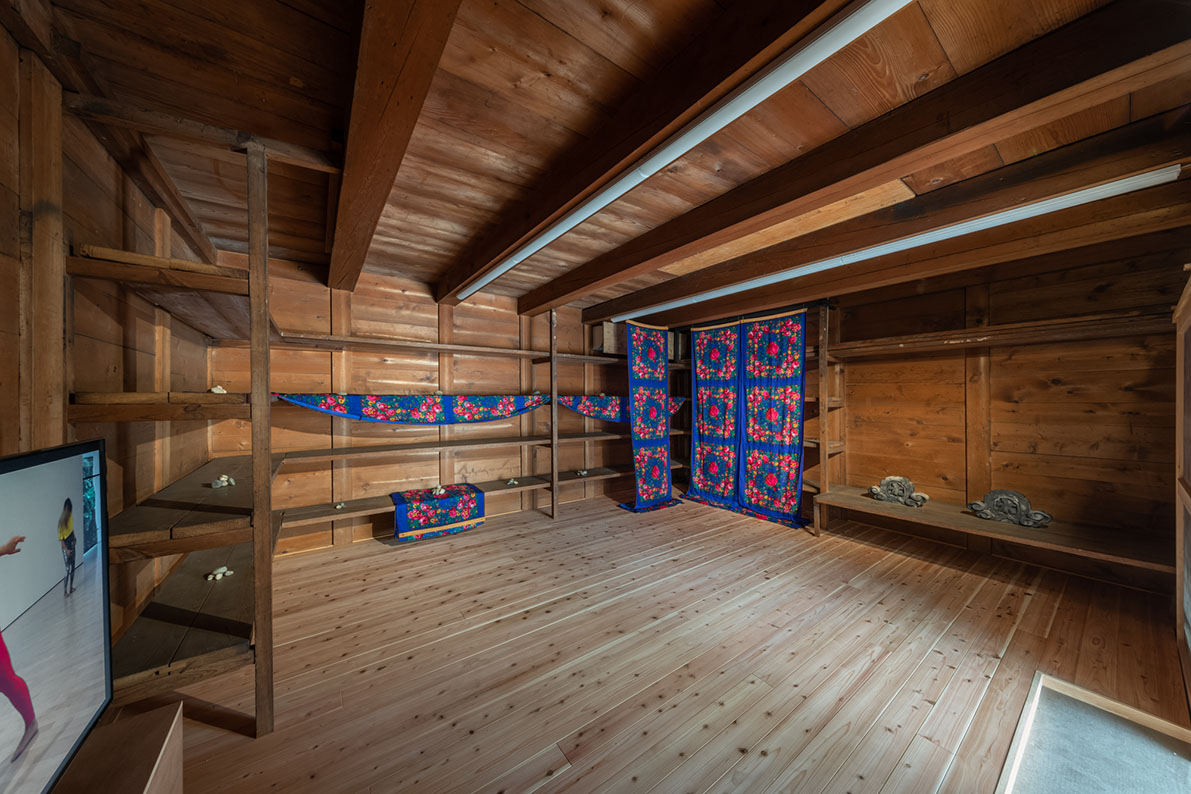 Installation view at Aichi Triennale 2022
grassesgrassesgrasses, 2022
Photo: ToLoLo studio
Open

10:00-17:00

*Last admission 15 min before closing time

Closed

Wednesdays
Venue / Access

Warehouse, House of Kawamura

4 minutes on foot from Arimatsu Station on the Meitetsu Nagoya Line.