ARTISTS
Theaster Gates
Born 1973 in Chicago, USA.
Based in Chicago, USA.
Theaster Gates is an artist and social innovator. Through the expansiveness of his approach as a thinker, maker, and builder, Gates expands the role of the artist as an agent of change. His performative practice, and visual works find roots in Black knowledge, history, and archives. Gates studied sculpture, ceramics, and urban planning, and he has received acclaim for projects that have contributed to the revitalization of neighborhoods on Chicago's South Side. This residential building in Former Earthenware Pipe Factory (Maruri-Tokan), has been dormant since 2017. Gates has converted this vacant space into The Listening House, a platform for music, wellness, and ceramic research.
His ongoing preoccupation with Tokoname has been informed by a series of research trips and encounters with makers across Japan, the first being a residency in 1999 where he studied ceramics with master potters. In 2004, Gates participated in The International Workshop of Ceramic Art in Tokoname (IWCAT), that invites ceramicists from abroad to engage with local residents and makers. Gates has been a frequent visitor to the region ever since. For Gates, ceramics is a form of expression, where one can create a new world from one's own hands and imagination–an idea that resonates with other artworks and projects.
In recent years, Gates has been exploring the concept of "AfroMingei," which combines Japanese philosophy and Black identity to expand the possibilities of cultural hybridization. The Listening House, which combines Tokoname's ceramic culture with Black culture, is informed by this concept. It will serve as a studio, workshop, and space for music events. A collection of records of Black soul music and experimental jazz acquired by Gates from his late friend, ceramicist Marva Jolly (1937–2012) is a core facet of The Listening House. This project serves as a tribute to Marva Jolly and her legacy while celebrating Black music and ceramic histories. The space is punctuated by images from the Johnson Publishing Collection, and neon sculptures inspired by the paintings of Agnes Martin, and W.E.B Du Bois's statistical data charts which visualize the presence of the Black experience in America at the turn of the 20th century.
For Gates, The Listening House is his attempt at demonstrating the relationships that exist between artists: "The truth of my relationship with Marva Jolly is made evident through the generous gift of her collection. The albums and this space function as an extension of my friendship with her while recalling my roots in Tokoname, which has offered so much friendship to me. I've always wanted to be able to offer something back to Tokoname, my second home. The Listening House is the beginning of that work."
Selected Works & Awards

2021

Honorary Fellowship from the Royal Institute of British Architects

2020

The 26th Annual Crystal Award, Switzerland

2018

J.C. Nichols Prize for Visionaries in Urban Development, USA

2018

The Nasher Sculpture Prize, USA

2018

Kurt Schwitters Prize, Germany

2015

Artes Mundi 6 Prize, Wales, UK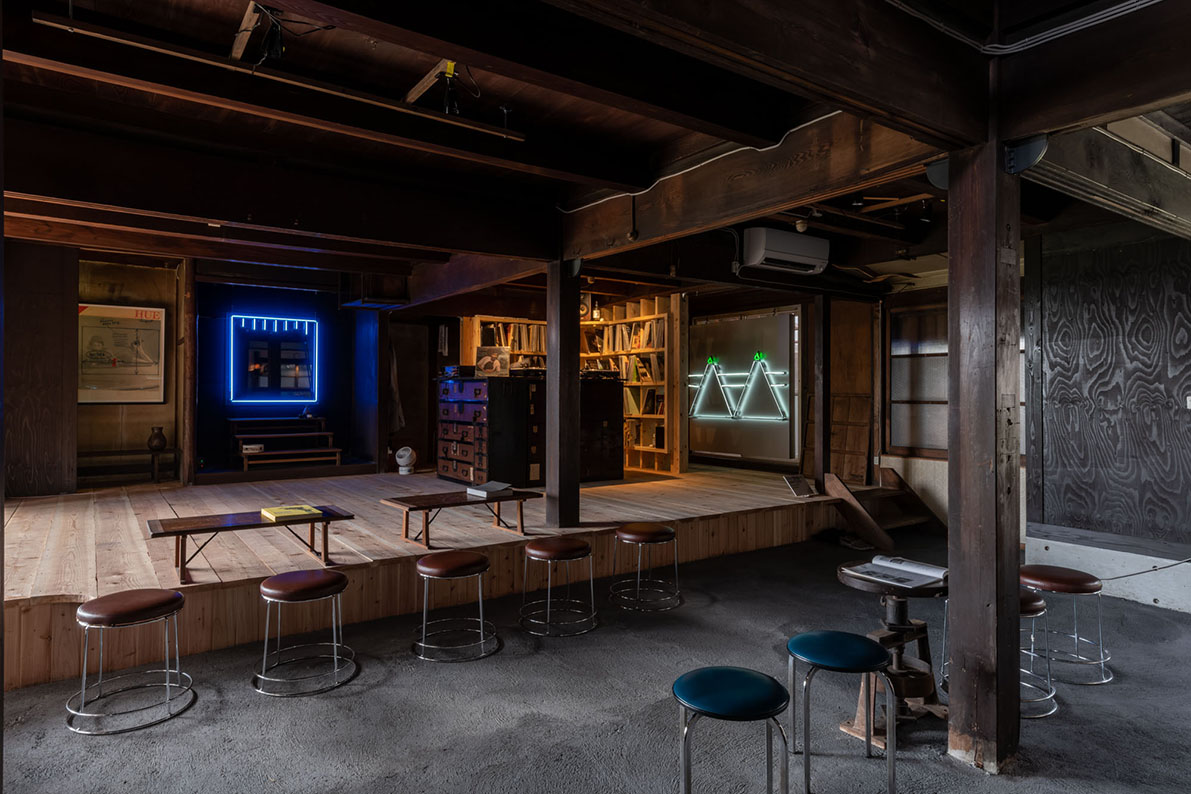 Installation view at Aichi Triennale 2022
The Listening House, 2022
Photo: ToLoLo studio
Exhibition
The Listening House
, 2022
Open

10:00-17:00

*Last admission 15 min before closing time

Closed

Wednesdays
Venue / Access

Former Earthenware Pipe Factory (Maruri-Toukan)

7 minutes on foot from Tokoname Station on the Meitetsu Nagoya Line / Tokoname Line.
Related Information
Event

Yoga inspired movement demonstration by April falcon
Daily at 16:00 from August 7th to August 16th, Former Earthenware Pipe Factory (Maruri-Toukan)

The Black Monks Live Recording with Performances by April Falcon
August 12 (16:00-17:00), August 14 (11:00-15:00), August 16 (16:00-17:00)
Former Earthenware Pipe Factory (Maruri-Toukan)

The Black Monks Performance for film shooting
August 13, 15:00-17:00, INAX Live Museum