ARTISTS
Yee I-Lann
Born 1971 in Kota Kinabalu, Malaysia.
Based in Kota Kinabalu, Malaysia.
One can easily envision kimono fabrics being rolled and unrolled on the tatami-mat floor in the space, which was a kimono shop until 2021. As if in response to this imagined scene, Yee I-Lann's Tikar Reben (2020) is displayed as if rhythmically swooping down from the ceiling. Tikar means a woven mat in the Malay language. It is usually spread on the floor. The culture of weaving mats is widespread throughout the Asia-Pacific region, from Southeast Asia where Yee is active, to the Pacific islands.
The table, a significant motif in Yee's work, creates differences in eye level and symbolizes power gaps in architectural space, between ruler and ruled in the context of formerly colonialized Southeast Asia. By contrast, tikar laid on the floor creates a space for all people to gather, and suggest a more horizontal, democratic stance and resistance to patriarchy. Traditional farmers' markets in Yee's birthplace Sabah, are known as tamu. Since pre-colonial times, tikar were common items found at these tamu. The tamu are microcosms of society and meeting places where diverse, sometimes hostile ethnic groups would gather and exchange their produce. Yee has drawn inspiration from the traditional tamu and tikar to make contemporary commentary about communities and socio-geopolitics.
The designs found within Tikar Reben are an index or 'dictionary' of multilingual and multi-generational basic heritage counting patterns that communicates weaving techniques and knowledge passed down among people of multiple generations and languages. Tikar Reben in its woven ribbon form, and the accompanying video, documents the rolling out of this tikar across the 52m divide between the Malaysian Omadal Island village and the stateless Bajau Sama DiLaut weavers' water village. The weaving thus becomes a cultural bridge between the 2 communities that celebrates shared cultural identity across a geopolitical landscape marked by prejudice.
Yee I-Lann has worked in the art department in the Malaysian film industry since 1994, and has participated in numerous international exhibitions in the region, presenting multimedia works addressing the history of Southeast Asia. Since 2018, she has been collaborating with multiple Bornean communities and weavers on tikar.
Selected Works & Awards

2021

The 10th Asia Pacific Triennial of Contemporary Art, the Queensland Art Gallery | Gallery of Modern Art, Brisbane, Australia

2021

Art Histories of a Forever War, Taipei Fine Arts Museum, Taiwan

2021

Indian Ocean Craft Triennial, John Curtin Gallery, Perth, Australia

2021

Yee I-Lann: Until We Hug Again (solo), CHAT (Centre for Heritage, Arts and Textile), Hong Kong

2021

Yee I-Lann & Collaborators: Borneo Heart (solo), the Sabah International Convention Centre, Kota Kinabalu, Malaysia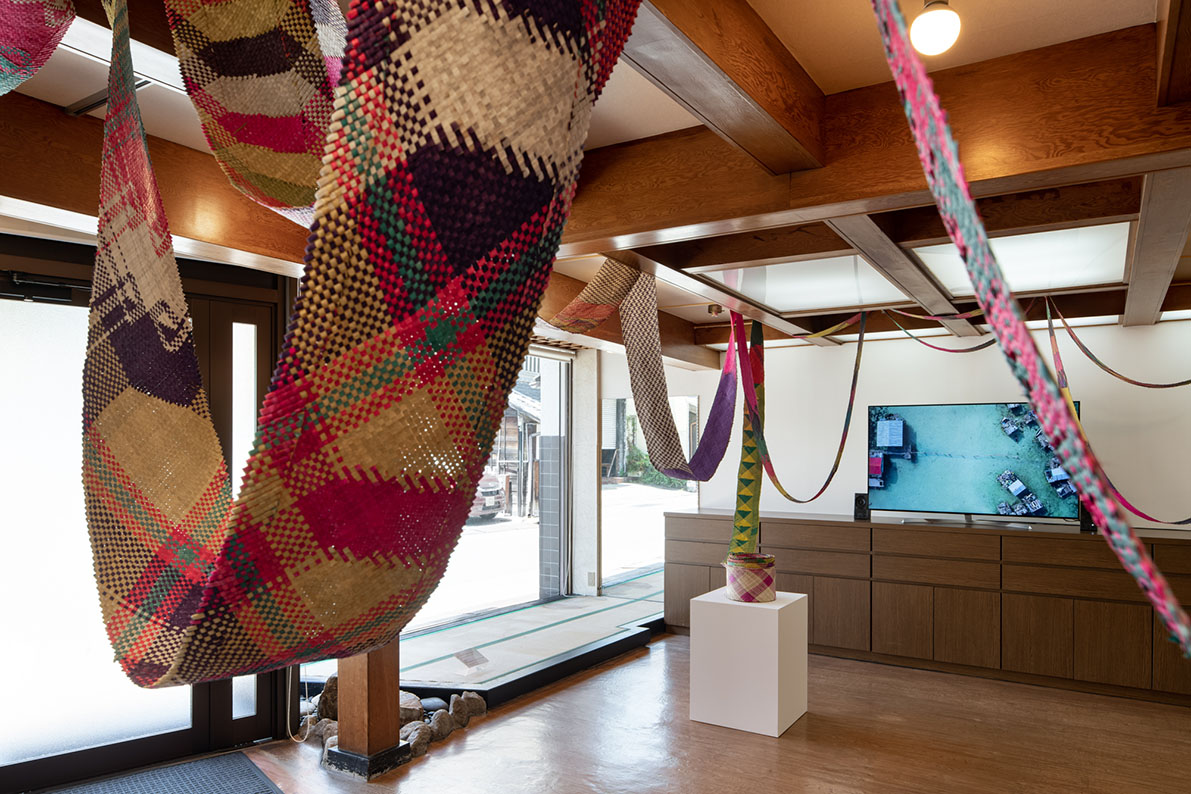 Installation view at Aichi Triennale 2022
Tikar Reben, 2020
Photo: ToLoLo studio
Open

10:00-17:00

*Last admission 15 min before closing time

Closed

Wednesdays
Venue / Access

Former Kato Kimono Fabrics Shop

4 minutes on foot from Arimatsu Station on the Meitetsu Nagoya Line.