ARTISTS
Yhonnie Scarce
Born 1973 in Woomera, Australia.
Based in Melbourne, Australia.
The Arimatsu and Narumi shibori textile workshop Harisho, established in 1897, has carried on traditions such as sekka (snowflake) shibori using Chita cotton, and after World War II revived the traditional technique of mame [bean] shibori. Here Scarce's Orford ness (2022) occupies half of the space. Visitors can walk through approximately 1,000 pieces of suspended glass that evoke clouds and rain, and can also see historical materials relating to Harisho, which exported large amounts of colorfully dyed shibori textiles to Congo, Africa in the immediate postwar period. Meanwhile, the roots of Scarce's practice can be traced to the Cold War.
Scarce was born in Woomera, with maternal grandparents of the Aboriginal Australian Kokatha and Nukunu people. Between 1952 and 1957, during the administration of Prime Minister Robert Menzies, twelve large-scale nuclear tests were conducted by the British in South Australia and Western Australia, and seven of these were conducted at Maralinga, 600 km west of Woomera.* Scarce's practice is motivated by the responsibility to remember and retell ancestral stories, and by the history and shared memory of a land scarred by human wrongs such as war and colonialism. The glass pieces are shaped like yams, a staple food of the Aboriginal people of Australia and an important cultural and spiritual symbol.
Her works convey to humankind, which consistently fails to learn from history, a memento mori (reminder of death), urging remembrance of casualties of nuclear testing, forced displacement of residents, and contamination of the environment. Given the current circumstances, one may also be reminded of art history, in that memento mori became a favored European painting subject after the Black Plague subsided in the 14th century.
Scarce has had solo and group exhibitions at the IAIA Museum of Contemporary Native Arts (Santa Fe, USA, 2022), concurrently at the Australian Centre for Contemporary Arts (Melbourne) and Institute of Modern Art (Brisbane) (2021), and at the TarraWarra Museum of Art in Victoria, Australia.
* Una Ray, "The Myth of Empty Country And the Story of ʻDeadly' Glass," di'van / A Journal of Accounts, Divan Art Journal and University of NSW Art & Design, Sydney, March 2021 (issue 9), pp. 42–52.
Selected Works & Awards

2022

Reclaim the Earth, Palais de Tokyo, Paris, France

2022

Exposure: Native Art and Political Ecology, IAIA Museum of Contemporary Native Arts, Santa Fe, USA

2021

Yhonnie Scarce: Missile Park, Australian Centre for Contemporary Art, Melbourne/Institute of Modern Art, Brisbane, Australia

2020

Looking Glass: Judy Watson and Yhonnie Scarce, Tarrawarra Museum of Art, Melbourne, Australia/Flinders University Museum of Art, Adelaide, Australia

2020

Small Building Award, Dezeen Awards

2019

National Gallery of Victoria Architecture Commission, National Gallery of Victoria, Melbourne, Australia

2018

Winner, Kate Challis RAKA Award, Australia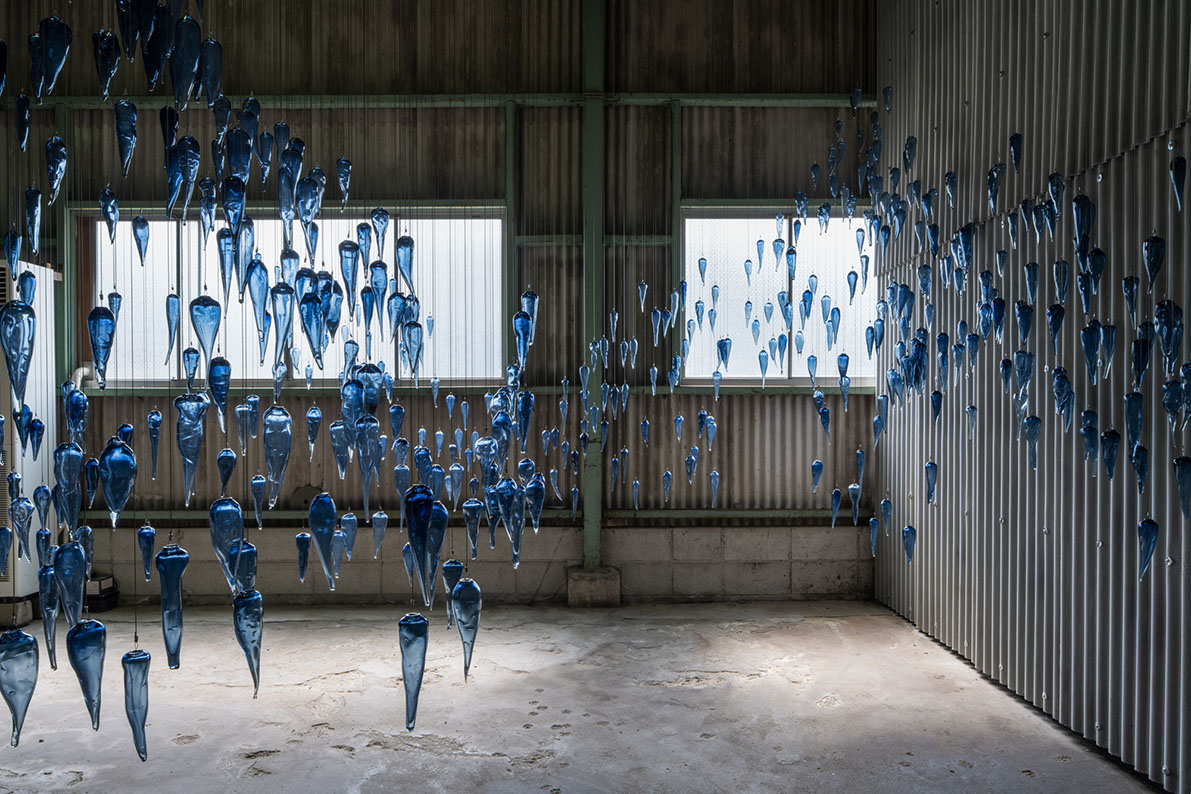 Installation view at Aichi Triennale 2022
Orford ness, 2022
Photo: ToLoLo studio
Open

10:00-17:00

*Last admission 15 min before closing time

Closed

Wednesdays
Venue / Access

THE HARISHO CO., Ltd.

4 minutes on foot from Arimatsu Station on the Meitetsu Nagoya Line.