ARTISTS
Yuki Kihara
Born 1975 in Apia, Sāmoa.
Based in Apia, Sāmoa.
The five kimonos on display are titled サーモアのうた (Sāmoa no uta) A Song About Sāmoa – Fanua (Land), and are the second part of Yuki Kihara's five-year project that has drawn international attention since the artist was selected to represent New Zealand at the 59th Venice Biennale (currently underway). At one end of the room are simple kimonos from a bygone era and photos of men and women in formal wear, which are her grandmother's kimono and photographs of her grandparents.
サーモアのうた (Sāmoa no uta) A Song About Sāmoa fuses siapo, traditional Samoan textiles made from the inner bark fibers of the paper mulberry trees, with the cultural context of furisode (long-sleeved kimono), and tells a story about Kihara's identity as the child of a Japanese father and Samoan mother. The work drew inspiration from "Samoa-to no uta" (Song of the Samoan Islands), a well-known song in Japan said to have been inspired by public broadcaster NHK's filming of local children singing and dancing in Samoa in the late 1950s. Kihara says she was strongly impacted by the lyrics, which have the effect of stereotyping and exoticizing Samoa.
サーモアのうた (Sāmoa no uta) A Song About Sāmoa addresses cultural, environmental, and socioeconomic issues facing Samoa today in the medium of siapo, handcrafted textiles which are among the islands' oldest traditional crafts. The process in which the surfaces are handcrafted by multiple artisans and members of Kihara's family also reveals the deep-rooted communitarian society of Samoa. This work in particular dynamically depicts the domino effect of the globalized capitalist economy on Samoa, in a manner that resonates with the composition of the series employing siapo kimono as a canvas. This work surely resonates with all viewers affected (as we all are) by dilemmas of regional survival, such as the preservation of tradition versus innovation, and the impact of the global on the local.
Selected Works & Awards

2022

59th Venice Biennale, New Zealand Pavilion, Italy

2018

Bangkok Art Biennale, Thailand

2017

Honolulu Biennale, Hawaii

2013

Undressing the Pacific: Mid-Career Survey (solo), National touring exhibition of the University of Otago, New Zealand

2013

Sakahàn Quinquennial, Ottawa, Canada

2008

Living Photographs (solo), Metropolitan Museum of Art, New York, USA

2002 & 2015

Asia Pacific Triennial, Meeanjin Brisbane, Australia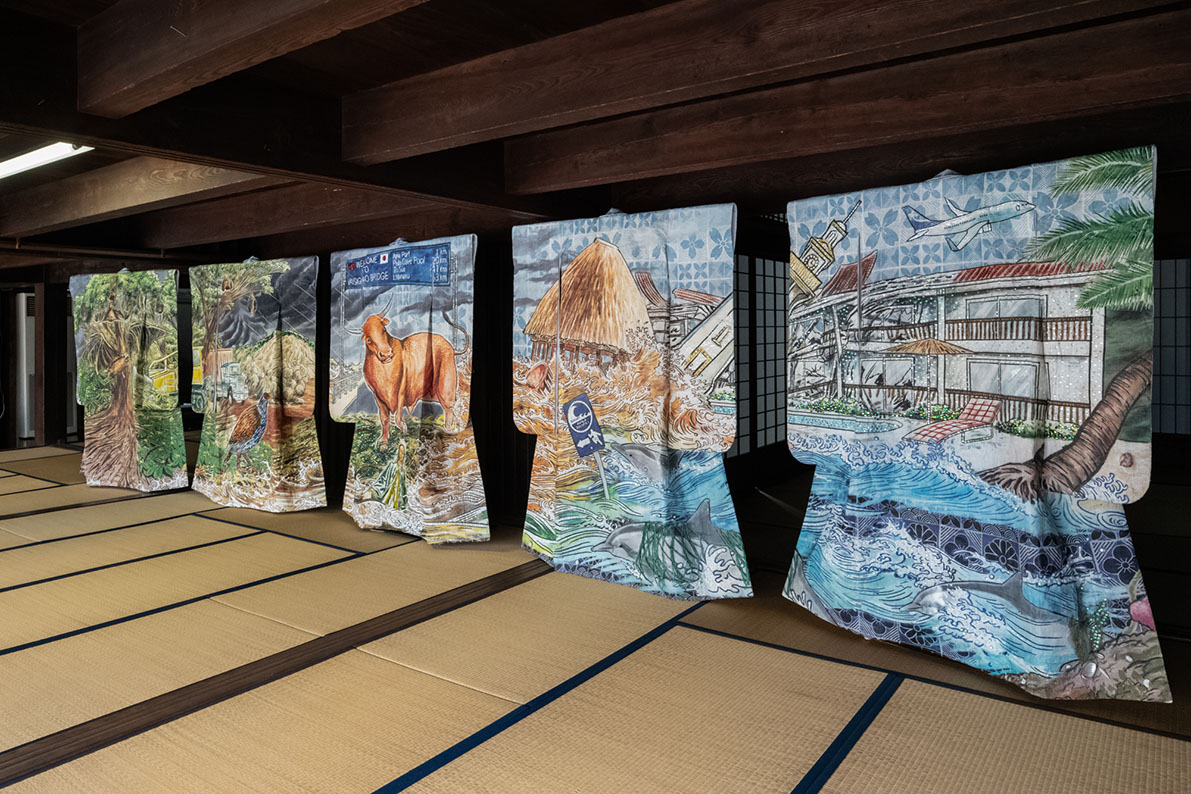 Installation view at Aichi Triennale 2022
サーモアのうた (Sāmoa no uta) A Song About Sāmoa – Fanua (Land), 2021
Photo: ToLoLo studio
Open

10:00-17:00

*Last admission 15 min before closing time

Closed

Wednesdays
Venue / Access

House of Oka

5 minutes on foot from Arimatsu Station on the Meitetsu Nagoya Line.